Admiration 17.5 lb. 100% Peanut Oil - 2/Case
425 degree Fahrenheit smoke point
100% pure peanut oil
Great for deep frying
Popular for turkey, French fries, and more
Holds approximately 2.25 gallons of oil each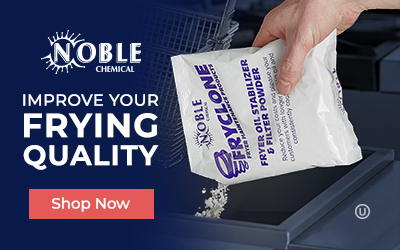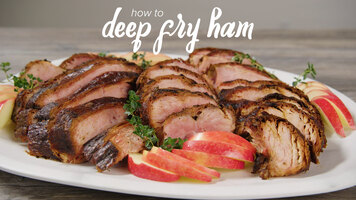 A lot of people deep fry turkeys around the holidays, but what about a ham? Deep frying a ham provides a delicious flavor and crispy texture that you and your guests will love! To begin, mix together 2 teaspoons of onion powder, 1 teaspoon of garlic powder, 2 tablespoons of dark brown sugar, 1 tablespoon of Coleman's English mustard, and 8 ounces of apple cider until dissolved. Using a marinade injector, add the prepared mixture to the inside of your ham, injecting it in different areas to provide an even distribution of flavor. After injecting as much of the mixture as possible, use a lint-free towel to thoroughly dry the outside of the ham. It's important to dry the ham as much as possible to keep the oil from boiling over. Next, carefully cut a slit through the ham and slide the ham over the poultry rack to keep it in place. Once your fryer is prepped and the oil is heated to 375 degrees Fahrenheit, slowly lower the ham into the fryer while ensuring the oil does not overflow. Cook the ham for about 7 minutes per pound and until the internal temperature is 160 degrees Fahrenheit. Carefully, pull the ham out of the fryer and give it a few minutes to cool and drain off excess oil. The flavorful ham is now ready to be carved and served!
Deep frying a ham provides a delicious flavor and crispy texture that you and your guests will love! Learn how to deep fry a ham with this step-by-step guide.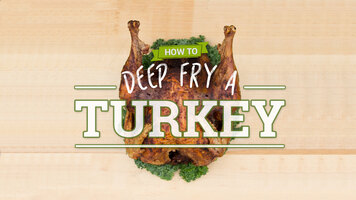 Frying a turkey is a fast, fun, and tasty way to make your Thanksgiving bird! It can also be potentially dangerous. In this video, we'll show you how to fry your turkey safely. There's two questions when it comes to oil when you're frying a turkey, and that's what kind and how much. As far as what kind, I recommend peanut oil. Peanut oil has a high smug point, so it's going to last longer. It's also not going to give your turkey any off flavors. As far as how much oil to use, the nice thing about this turkey fryer pot is it does have a max fill line. The most important thing is to know you need enough oil to cover your turkey, but not so much that it spills over and creates a fire. One way to be extra sure you've got the right amount of oil is to take your turkey before you cook it and place it in the fryer pot. Fill it with water until it covers the turkey, take the turkey out, and take note of where that water comes up to. That's how much oil that you need. With the particular turkey that I have today, I know I'm going to fill it to the max fill line. Once you've filled your pot with oil, you'll want to put it on your burner. Make sure you already have your burner set up according to the manufacturer's directions. I typically have the flame very low at this point when I put this on the burner, and then turn it up. You can adjust the air intake to get as blue of a flame as possible. On a windy day like today, it's not uncommon to have some yellow flame. Now, I'm going to go ahead and take my oil thermometer and place it on the side of the pot. Make sure the tip is covered in oil and also not touching the side of the pot. We're going to want that oil to get up between 325 and 350 degrees. One of the most important things when you're frying a turkey is to make sure you're frying a completely thawed bird. Make sure your turkey is completely unfrozen or your could have an oil boil-over. That's the last thing you want because that'll start a fire. The other thing you want to do is make sure that your turkey is completely dry. Again, oil and water don't mix, they tend to bubble up, and they can cause a boil-over. Next thing I'll do is cut off any excess fat that's on this turkey. You'll also want to make sure there's a hole in the top here where the neck was to make sure you can get your lifter through it. The next thing I'll do is cut a slit in front of each leg and that'll allow any excess oil to drip out when I pull the turkey out of the oil. The next thing you'll want to do is season your bird. I'm using salt and pepper and Regal Spice's Cajun spice and skillet seasoning. In addition, I'm going to use cajun Injector creole butter recipe as the marinade. When you're injecting your turkey, you just want to hit it in several places in the thick parts of the meat. Now, we're going to put it on the lifter and then wait for our oil to get up to temperature. Just like so, you can see how that will work. As you can see, I'm wearing heavy-duty fryer gloves. Safety equipment is very important. You'll see why when I start dropping the bird into this fryer oil. In addition, a fire extinguisher is always a good idea. I'm going to take the thermometer out while I load the turkey into the fryer. When I'm done, I'll replace the thermometer. Now, when you're putting the turkey into the fryer, the slower you go, the better. This will help prevent a boil-over. It should take a full minute for you to dunk this turkey into the fryer. I generally let the turkey fry for about three and a half to four minutes per pound. Next, I'm going to go ahead an put that thermometer back in there so I can keep an eye on the oil temperature. Okay, I've fried this turkey for about three and a half minutes a pound. I'm going to go ahead and take it out. First thing is I'm going to take out the thermometer so I don't knock it out and I'm going to gently lift this out of the fryer. Remember, you have that cavity that's going to hold a lot of oil and you'll want that to seep out before you bring it out over the flame. Oh, look at that crispy skin! Now we just want to check the temperature of the turkey. We want it to be at least 165 degrees. There we go!
Safely deep fry your holiday bird with these easy-to-follow and steps, and be sure to check out our step-by-step directions for more tips on How to Deep Fry a Turkey.
Specs
Package Size
17.5 lb.
Type
Peanut Oil
Usage
Deep Frying

Light Frying and Sauteing
Details
Deep fry your Asian dishes, turkey, or poultry to perfection with 100% peanut oil! Boasting a high smoke point of 425 degrees Fahrenheit, this peanut oil is ideal for creating stir fry, deep fried chicken, or battered fish. Since it doesn't transfer its flavor to your food, your patrons will fully enjoy the taste of your signature fried dishes.

This dependable, multi-purpose peanut oil is a great value for many of your restaurant, diner, or concession stand's cooking needs. You'll find excellent results when making French fries and you can even whisk it into salad dressings. No matter what you prepare, you'll want to keep a good supply of pure peanut oil on hand. Stock your kitchen and save costs with these bulk 17.5 lb. / 2.25 gallons containers!
Made in America

This item was made in the United States of America.
Resources and Downloads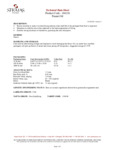 Nutrition
A PDF viewer is required to view this product's information. Download Adobe Acrobat software
Customer Reviews
People Talk About:

oil

Peanut

frying

great

turkey

oils

lower

peanuts

tastes

Admiration

With Thanksgiving around the corner it is time to get ready to deep fry my turkey. peanut oil is the best oil for deep frying a turkey, the flavor is nutrual and peanut oil can take the heat needed for frying a turkey. Admiration pil is great for making a thanksgiving turkey that tastes great.

The peanut oil is easy to use and a healthy chcice for frying food up to425 degrees. We do not have peanut allergies and in fact love peanuts and peanut butter.

This is very good peanut oil. I use it for cooking and soap making. It's fresh & stays good a good while. A good buy.

This makes using peanut oil to fry actually affordable. When you can get this quality at this cost it doesn't make sense to use fake oil.

Our containers were bright yellow, and this peanut oil meets our needs just as well as the product we had been using, at a far better value. Great purchase!

Peanut oil is absolutely one of my favorite oils for frying. It has become a little less popular because of peanut allergies however, I love the flavor.

The Admiration 100% Peanut oil, Is great for mixing salad dressings,Frying, great taste,lower in clesterol,We use it alot,you can use it when mixing a cake ,or anything you would use oil for.

This is a good frying oil. This oil has a low smoke point so you do not have to worry about fire as much as you would with other oils.
Leave a review of this product!
If you've used this product, log in and leave a review to tell us and other customers what you thought about it.
Login or Register