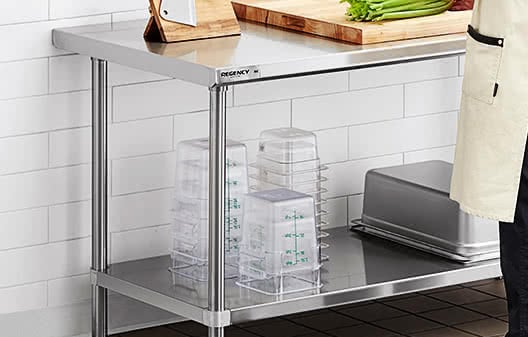 Shop Stainless Steel Work Tables with Undershelves
Shop 3 Compartment Sinks
3 Compartment Sinks
Uphold health code standards for washing, rinsing, and sanitizing commercial dishware with Regency 3 compartment sinks.
Shop Stainless Steel Enclosed Base Commercial Work Tables
Shop Equipment Stands & Mixer Tables
Shop Stainless Steel Open Base Work Tables
Shop Work Table / Equipment Stand Drawers & Accessories
Shop All Categories
Improve Your Kitchen with Regency Spec Line Restaurant Supplies and Equipment
Regency Spec Line was founded with a mission to produce quality spec line products. Their parent company, Regency, shares a strong commitment to quality and a passion for superior customer service. With the largest staff of Certified Food Service Professionals in the United States, they are dedicated to providing affordable solutions for their customers. Regency Spec Line restaurant supplies and equipment are designed with an emphasis on quality and high-level performance. Many of their products are made with stainless steel, offering corrosion resistance and improved durability in a busy workplace. Furthermore, some of their products feature backsplashes, helping to protect your walls.