Chef Master White 1 Liter Whipped Cream Dispenser
Great for dispensing whipped cream, mousse, and more
User-friendly design
Sleek white finish
Dishwasher safe container
Specs
Capacity
1 Liters
Color
White
Material
Anodized Aluminum
Type
Dispensers
Customer questions about this product
My dispenser does not seem to be charging properly. How can I fix this?

If it seems like your dispenser is weak and is not charging properly, please remember that you might need to use an extra charger to reach the desired results. We recommend using one to two chargers and shaking vigorously before dispensing the product.
Ask your own question!
Details
Whip up something special with this 1 liter whipped cream dispenser! Featuring a sleek, white finish and a user-friendly design, this dispenser helps make it easier than ever to create custom-crafted treats. Top off your signature ice cream sundae with fresh whipped cream for a taste that your customers will love, or use it to make rich, chocolate mousse and a variety of other dessert toppings and sauces! Include special ingredients like juices, coffee, and vanilla cream for a one-of-a-kind taste that will keep your customers coming back for more. Get creative by using the decorating tip to ensure a memorable presentation. When topped off with a dollop of whipped cream, your sundaes, blended beverages, cakes, pies and more will look just as great as they taste! This item includes 3 decorating nozzles, 1 cleaning brush, and 1 whip charger holder. The container is dishwasher safe; dispensing components should be hand-washed.

Note: A cartridge (sold separately) is required for operation.
Resources and Downloads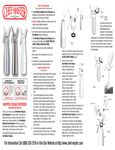 Instructions
A PDF viewer is required to view this product's information. Download Adobe Acrobat software
Warranty Info
Covered by a one year manufacturer's warranty against defects. 
Customer Reviews
People Talk About:

cream

whipped

dispenser

great

easy

much

dispensers

liter

large

units

2

out

of 2 found this

review

helpful

We have been using two of these dispensers in our restaurant for over two years with no problems. I noticed that some reviewers have rated the product poorly and have several complaints, but here's the deal: Some folks have bought the 1 liter dispenser for home use...that a lot of whipped cream! If it was purchased for home use or for an establishment that doesn't use it much, that is not a reason to rate it poorly. We have NEVER had a problem with the valve leaking (not that it can't happen, but it hasn't happened to us after extensive, prolonged use). Some have complained about the whipped cream not having good consistency, but there could be several factors there. Did they use two canisters of N2O? What was the quality of the cream and other ingredients? Was their "mix" too watery to begin with? We make perfectly whipped cream in several flavors, including adding liqueurs, and have always had great results. One of the best products we've ordered from Webstaurantstore and would highly recommend, especially given the price.

2

out

of 2 found this

review

helpful

I was hesitant to get this after reading some of the reviews, but I figured I'd give it a shot. I've had no issues with it, and I'm convinced that people aren't using it properly. There's no need to repeatedly shake before using. It's best if you keep it cold - I freeze mine before filling. The nitrogen chargers are affordable, and this tool allows you the flexibility to make whatever you want. I'll probably buy the 0.5L as well since this is too large for most of my uses.

2

out

of 2 found this

review

helpful

This dispenser worked fairly well for the first month or so but it started to leak whipped cream and nitrogen out the top seal, even when put together correctly and screwed on tightly. Also, the amount of whipped-ness is inconsistent - sometime too much and sometime not enough.

Thank you for your review! We're sorry that this product did not meet your expectations. A Customer Solutions representative will be in contact with you soon to help resolve this problem.

Do not buy this product it needs to be recalled . It blew up in my wife's hand . She shook it and then it blew up and launched itself into the ceiling. If she had been holding it differently it would have killed her

Thank you for your review, Steve! We are sorry this White 1 Liter Whipped Cream Dispenser has not worked well for you. A Customer Solutions Representative will contact you soon!

we use this every day at our milkshake store. easy to assemble and clean. the closing is great and never had a problem. would buy again

So great! I bought one of these a little while ago and just now got around to using it. It's really convenient and easy to use!

Great dispenser. Really good quality. Lightweight but strong at the same time. We have been using this dispenser for quite some time and it has held up really well.

I really like this. It takes about 2 chargers, even if its only half filled. I do wish it was a little easier to clean.

This whipped cream dispenser is perfect for our busy ice cream shop! We started with 2 1-L dispensers and recently purchased two more. Each one leader dispenser requires two nitrogen chargers. Our customers rave about the taste of fresh whipped cream compared to the stuff you can buy premade in aerosol cans. We have never had an issue with our units. We highly recommend this product to anyone!

These are great. we ordered two of them. They are very sturdy aluminum built. Three choices for tips. They are so much better than storebought whipped cream.

The one liter is actually very big. It is difficult to tell where to fill it up to because it has no line. It is also very heavy and tall. Recommend the 1/2 liter instead.

This 1 liter sized whipped cream dispenser is good to use when needing a large amount of whipped cream. The smaller size would be best for home use.

Perfect for whipped cream for our coffeeshop. We have two of these canisters that we rotate through. They're easy to use. The only downside is that it takes a lot of shaking if it hasn't been used in a little while. I get shaking it a lot when you're first making it, but it seems a little annoying to have to do that regularly.

i absolutely love this product!!! it took us a while to get it to work but after that we had it down. we used it while outdoors. we kept the container emerged in an ice bucket but before we left i kept the container and the whipping cream in the freezer for a while than we assembled it before we left. we shake the container every time before use.

White 1 Liter Whipped Cream Dispenser - A little large for the countertop fridge. But it works well. Baristas had to get used to the larger size and double NO2

Overall I really like this dispenser. It is easy to use and works well. I use it primarily for regular whipped cream and find that it does a great job. My only regret is that as a home user I find this dispenser to be very large. In retrospect, I think I would rather own the 1/2 liter dispenser. This dispenser makes enough whip cream to get through 30 or more sundaes - which takes some time in a regular house. But as I said, it works great and is easy to use - so if you want lots of whipped cream this is for you.

This whipped cream dispenser is so fun! You can make tons of different flavors of whipped cream. We've made mint, vanilla, chocolate, and more! It's a good quality product.

I think this is a great product! However, we couldn't always get it to work correctly. I don't think this has anything to do with the actual product just human error. We had to watch videos on youtube learn the correct way to do it. However, only a few people could do it. The whipped cream tasted great when it came out :)

This is great. We make our whipped cream two ways: Sometimes with powdered sugar, sometimes with vanilla bean syrup. This makes it great either way.

This product is amazing and works just great. Love the product and it's bigger then I thought. I'm debating on getting 2 more :)! (It came sooo fast too)!

I've seen several complaints about issues with seals and unsatisfactory "whipped" factor. We constantly have between 3 and 4 of these in circulation and haven't seen any problems yet. I will say I didn't know until I read the directions that this requires two N20 cartridges to charge. It is the larger of the dispensers so it made sense once I read that. I makes wonderful whipped cream. And making your own whipped cream is the only way to go. So easy and this method makes for a far better texture than if you were to hand/machine whip.

good for the price, the only draw back we have seen with this is that the trigger is very sensitive and product comes out very fast. also we are afraid to drop the item, the material it is made out of seems it would break it we dropped it

Not a fan. Was hoping this would cut down on time whipping our own cream, but this dispenser is unreliable. The cream is either to soft or too firm and then deflates soon after. Very frustrating topping a pie with what looks to be like perfectly whipped cream, only to see that it has all deflated and melted everywhere. Won't be using anymore.

We're sorry this didn't work for your application. For additional assistance or product recommendations, please contact our Customer Solutions team.

This is a fun device, and lets us provide a consistent and home-made whipped topping for our customer's coffee and hot chocolate purchases. You can even add different flavorings, just be sure to follow the directions for a good result!

Our Ice Cream Parlor has only been open for 3 weeks. We started out with cans of whipped cream, but now have decided to make our own. We are so glad we did the whipped cream is so much better. The 1 liter is good size and lasts longer then the cans. The dispenser holds a charge over night so no waste. We are ordering another to keep up with the demand.

This is perfect for the budget-conscious. This whipped cream dispenser is much less expensive than many other. It's also durable, plenty large, and can be used for things other than whipped cream (including carbonating fruit). Definitely pick up a pack of the N2O cartridges from webstaurant.

I have this product since 2010 and i havent had any issue. The consistence of the cream is really good. I highly recommend it and i would buy it again!!

The larger size is an added bonus. Keeps pressure consistently and make cream light and fluffy. Have a couple of these as we like them so much.

Excellent whipped cream dispenser. Looks even better in person. Very good quality for the price. The N20 cartridges are perfect for the dispenser. This has been a nice addition for my pies and cheesecakes!

Bought these whip cream dispensers to dispense our fresh whipped cream which it does do. However, to get it dispense properly is quite a chore. We bought 3 units and all 3 units have an issue with the N2O valve. Being that we bought the 1L unit, the instructions say to use 2 units of nitrous. We're able to load the first tube in but when we unscrew the cracker to try and load the second unit of nitrous, the valve leaks what was loaded in previously and won't stop unless we plug it with a thumb or finger. Using only one nitrous unit doesn't whip up the cream enough for proper consistency. It really needs 2 for the 1L bottles. But with these dispensers, we find that we need to use 3-4 nitrous units because we lose so much gas from the garbage valve that allows the gas and

sometimes cream to come back out. Been trying different techniques to try and solve this issue but so far nothing has worked except use more nitrous and wipes to clean up the mess it creates. Because of this fundamental issue, we cannot recommend this product. Spend the extra money and get one that works the way it is suppose to and save yourself the headache that comes from breathing in too much nitrous. Read Less Read More

Thank you for your review! We're sorry to hear these whipped cream dispensers gave you so much trouble. Your account has been credited for the defective units.

es un producto muy bueno de fácil manejo,recarga, económico, lo recomiendo, no tiene nada que envidiarles a los otros dispensadores caros que hay en el mercado...

Love this dispenser, had never used one until I got this one. So much better then the whipped cream from the can. I just need to get a smaller one for smaller uses. I am so tickled to have it!!!!

This whipper works great! No frills but does its job beautifully with its large capacity and ease of use. So easy to clean it almost seems like a nonstick interior (its not though). Well worth the price!

We purchased this dispenser to make espuma or foam for our bar. We top off our drinks with specialty fruit espuma to enhance the flavor of the drinks.

The dispenser makes great whipped cream; however we have to refresh the dispenser every day and on our slower days, we may not use all of the cream in the dispenser so there is quite a bit of waste. We also have to replace the charger each time, so there is a cost in that as well.

Thanks for reviewing this item! For your situation, you may be interested in the 1/2 Liter Whipped Cream Dispenser (47290068). It holds smaller batches of cream, which may cut down on the amount of waste.

We have used these for years and, again, have had no issues with these dispensers! easy to clean, reliable and consistent. This item will not hold product as long as the insulated but is cheaper.

This whipped cream dispenser is great. I love making my own whipped cream. I save a lot of money and i get to sweeten myself.

I love this large 1 liter whipped cream dispenser for making all sorts of flavored whipped cream!! Easy to make mokka or cinnamon infused whipped cream!! Easy to use design!!
Leave a review of this product!
If you've used this product, log in and leave a review to tell us and other customers what you thought about it.
Login or Register