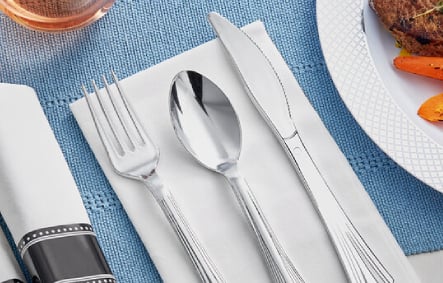 Shop Visions Plastic Cutlery
Visions Plastic Cutlery
Whether you're hosting a company party or throwing an outdoor picnic, Visions plastic cutlery features reliable and disposable flatware options for your event.
Shop Visions Plastic Disposable Plates
Visions Plastic Disposable Plates
Complete your tabletop presentation by using these professional-looking Visions plastic disposable plates at your catered weddings and banquets.
Shop Visions Disposable Barware
Visions Disposable Barware
Use Visions disposable barware to serve drinks from your poolside bar or during an outdoor cocktail hour without the fear of broken glass.
Shop Visions Plastic Serving Utensils
Visions Plastic Serving Utensils
Visions plastic serving utensils are lightweight, sturdy, and elegant, making them perfect for dishing food at all of your catered events.
Shop Visions Catering Trays
Visions Catering Trays
Easily prepare platters of sandwiches, plates of cookies, or fruit trays with these highly transportable Visions catering trays.
Shop Visions Catering Display Items
Visions Catering Display Items
Create eye-catching food presentations by using Visions catering display items to serve appetizers, desserts, and drink samples to your guests.
Shop All Categories
Plastic Flatware for Every Occasion
Offer customers the look and feel of elegant flatware while making clean-up easy with plastic flatware from Visions. An industry leader, Visions manufactures the highest quality disposable plastic flatware, offering both value and durability. Perfect for picnics, catered events, and any other time quick and easy clean-up is required, Visions plastic flatware will hold up to the task at hand and look good doing it.Visions offers both standard and heavy weight plastic cutlery, individually wrapped plastic flatware and kits, catering trays, and catering tray lids. No matter what your need, Visions is sure to have a disposable product for you that features superb durability and visual appeal at an excellent price point.