Savage Brothers Equipment Parts
Savage Brothers Equipment Parts Maintain Your Gear for Supreme Performance
In 1855, two first-generation American brothers founded Savage Brothers Company and committed themselves to engineering the highest quality machinery for candy creation. Their inventory began with wood- and coal-fired candy stoves and grew over the years to include modern, efficient gas and electric models. Though no longer a family-owned and operated company, Savage Bros. Co. remains committed to responding to customers' needs to improve productivity and quality. Read more
Savage Bros. has a large selection of equipment for your bakery, candy shop, or restaurant. If you need to upgrade or fix your gear, Savage Brothers equipment parts ensure that your products continue functioning at prime ability. Whether you need o-rings to create seals between the components in your equipment or relays and thermostats to maintain proper temperature, Savage Bros. parts are essential to maintain top performance.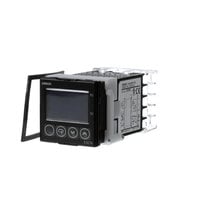 Savage Bros. Commercial Refrigeration Thermostats
Ensure proper temperature regulation with Savage Bros. commercial refrigeration.
Savage Bros. O-Rings
Savage Bros. o-rings create seals between your components to create the ideal amount of pressure within your gear.