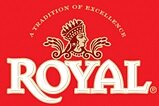 Royal Rice Dried Goods
Royal Rice, Couscous, and Flour Are Great for a Wide Variety of Dishes
Royal Rice is a supplier of dry goods like rice, flour, and couscous. They source their grains from regions of the world that are famous for those products, making them a unique and global brand that is dedicated to authentic flavors and fair treatment of their farmers. While Royal has locations around the globe, their U.S. headquarters is in Cypress, CA. Read more
Even if your restaurant doesn't specialize in global cuisine, you can still incorporate Royal Rice dried goods into your restaurant's pantry. Royal offers several different types of rice, including basmati and jasmine, which are perfect for traditional Indian dishes or fusion styles of food. So whether you're searching for pantry essentials or you want to bring a global twist to your menu, Royal has the products you need.
Royal Rice Pasta
Stock up on Royal couscous, which has a long shelf life and is a versatile ingredient for a variety of dishes.
Royal Rice Rice
Royal offers different styles of rice, like jasmine and basmati, so you can find the perfect option for your business.