Lucky Foods Korean Food Products
Expand Your Catering Menu with Lucky Foods Korean Food Products
Lucky Foods had a humble beginning in 1980, starting as a family-owned restaurant opened by Korean immigrants in the state of Oregon. They have since expanded, using expertise steeped in age-old traditions, to create wholesome and authentic Korean appetizers that their customers across the nation can enjoy. Lucky Foods remains family-owned and continues to expand its menu to include more Korean recipes, made with high-quality ingredients and traditional methods. Read more
Stock up on Lucky Foods Korean food products to diversify the hors d'oeuvres during your catered events. Lucky Foods offers delicious spring rolls and sauces that are packed with flavors that your guests will love. Their products are also GMO, MSG, preservative, and additive-free to provide natural and nutritious menu options.
Lucky Foods Asian Sauces and Glazes
Add the perfect finishing touch to your stirfry and bibimbap dishes with Lucky Foods Asian sauces and glazes.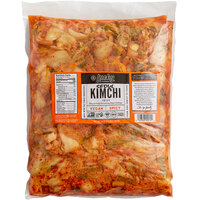 Lucky Foods Pickled and Marinated Vegetables
Top off your specialty menu items with flavorful Lucky Foods pickled and marinated vegetables.