Huy Fong Foods & Sauces
Spicy and Versatile Huy Fong Hot Chili Sauces Are a Customer Favorite
Huy Fong was founded in 1980 and is a world-renowned manufacturer of a variety of delicious hot sauces. Their signature product is their iconic sriracha hot sauce, which is used in foodservice businesses around the globe. While Huy Fong's creator is originally from Vietnam, the company was founded near Chinatown in Los Angeles. Read more
If you'd like to add Huy Fong foods and sauces to your business's lineup, they offer several different sauces to choose from. Along with sriracha, you'll find Louisiana-style products that work well for barbecue joints and soul food restaurants. Huy Fong even offers portion control packs that help your business cut down on food waste and work well for take-out orders.
Huy Fong Asian Sauces and Glazes
Use tasty Huy Fong Asian sauces and glazes when you're preparing your foodservice business's delicious appetizers and entrees.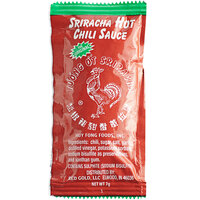 Huy Fong Condiment Portion Control
Convenient Huy Fong condiment portion control packs come in several flavors and are designed to reduce your restaurant's food costs.