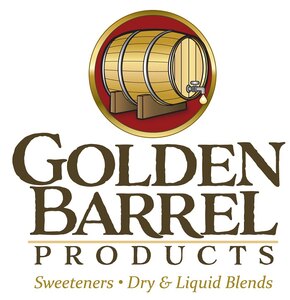 Golden Barrel Products
Delicious Honey, Molasses, Sweeteners, and More
Golden Barrel was founded in 1980 as a subsidiary of Good Food, Inc. Today, they have become a major provider of baking supplies throughout the United States alongside other well-known companies like Zook Molasses. With premium products at affordable prices, Golden Barrel has made a name for itself. Read more
Golden Barrel offers dozens of wholesale consumables that can be used in bakeries, restaurants, and even concessions. Their line of funnel cake mixes and cake mixes makes them great for snack bars as well. With so many options, you're sure to find something that can fit your business model.
Golden Barrel Bulk Corn Syrup
Golden Barrel bulk corn syrup comes in both a light and blended variety so you can pick the perfect syrup for your business's needs. This corn syrup comes in bulk and single quantities so you can pick the one you want.
Golden Barrel Molasses
Golden Barrel molasses is perfect for thickening and sweetening various confections. Golden barrel's selection of molasses includes baking and blackstrap varieties depending on your preference.