Shop Pillsbury
Pillsbury
Pillsbury offers everything from various flours to pre-made desserts to satisfy all your baking needs.
Shop Gold Medal Baking Mixes
Gold Medal Baking Mixes
Gold Metal Baking Mixes help you create beautiful confections and pastries for your establishment.
Shop Nature Valley
Nature Valley
Nature Valley allows you to serve cereals, granolas, and individually-wrapped snacks for convenient and healthy breakfast options.
Shop Annie's
Annie's
Sell delicious and healthy snacks at your cafeteria or convenience store with Annie's.
Shop Betty Crocker
Betty Crocker
Offer delicious on-the-go treats by stocking Betty Crocker in your foodservice business.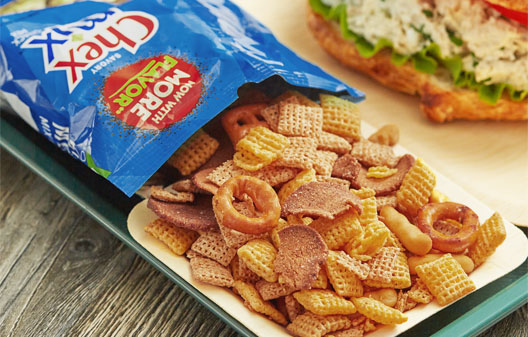 Shop Chex Mix
Chex Mix
Chex Mix are the perfect snack option to sell for a brand that your customers know and love.
Shop All Categories
General Mills Products are Recognized for Quality and Taste
The story of General Mills products begins with Cadwallader Washburn and the flour mill he opened on the Mississippi river in 1866. In 1921, he produced the first ready-to-eat cereal and called it Washburn's Whole Wheat Flakes, later shortened to Wheaties. Throughout the twentieth century, General Mills developed several brands that are still popular today, including Betty Crocker, Kix, Bisquik, and Cheerios. With the acquisition of the Pillsbury Company in 2001, General Mills became one of the biggest food companies in the world. A shift to sustainability led the company to grow its natural and organic food lines, like Annie's and Cascadian Farm. General Mills has a large portfolio of popular cereal brands that make a great breakfast option for restaurants, schools, buffets, and self-serve stations.