Bromic Heating Products
Bromic Heating Products Offer Durable and Powerful Outdoor Heating
Bromic Heating is a newcomer to patio heating. Founded in 2007, Bromic Heating's fresh and modern take on patio heating equipment has already made a name for itself. Both their business and their catalog have expanded over the years. Read more
Bromic Heating products come in different sizes and styles, so you can find the perfect heater for your needs. Their wall mounted heaters offer convenient, out-of-the-way placement, and you can position their portable heaters where you need them.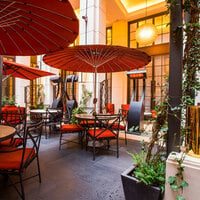 Bromic Heating Commercial Patio Heaters
Extend the use of your outdoor dining space, beer garden or rooftop bar with portable or mounted Bromic Heating commercial patio heaters.
Bromic Heating Commercial Patio Heater Parts and Accessories
Keep your Bromic outdoor patio heaters functioning like new with OEM Bromic Heating commercial patio heater parts and accessories.