Shop Belosa Olives
Belosa Olives
Belosa olives make a statement on a charcuterie board, in a pasta salad, or paired in a cocktail.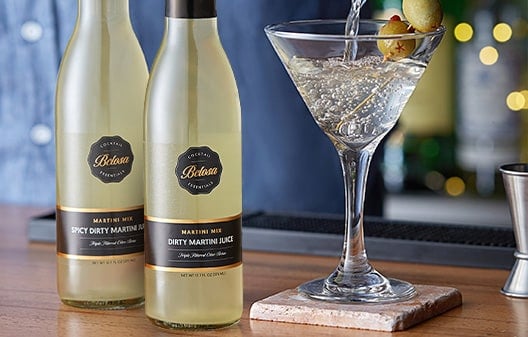 Shop Belosa Bar Drink Mixes
Shop Cocktail Garnishes
Cocktail Garnishes
Belosa cocktail garnishes craft stunning cocktails that will enhance your beverage menu.
Amplify the Taste of Your Beverage Menu with Belosa Cocktail Essentials Products
Belosa Cocktail Essentials brings premium ingredients to your restaurant or bar at an affordable price. Your bartenders will be able to craft one-of-a-kind beverages to create a distinct cocktail menu that is second to none. Explore Belosa Cocktail Essentials' full line of products to discover uniquely delicious ingredients.From classic cocktails to new creations, Belosa's mixers and garnishes offer bartenders an easy way to craft remarkable beverages. Their olives are picked, cured, and packed with homemade brine, and their mixes provide an easy way to spruce up cocktails and complement the taste of your top shelf liquor. Regular customers and new patrons alike will be lining up at the door thanks to the top-quality taste of Belosa Cocktail Essentials products.