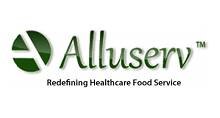 Alluserv Healthcare Foodservice Equipment
Foodservice Excellence for Your Healthcare Facility
Alluserv's mission is to help your patients by helping your healthcare facility. Hospitals, assisted living communities, nursing homes, and other facilities have special requirements for the way food must be prepared. Through their innovative, efficient technology, Alluserv brings healthcare professionals the food storage and preparation equipment needed to properly care for their patients. Read more
Alluserv manufactures healthcare foodservice equipment to make every step in the food preparation and delivery process easier. Air curtain refrigerators maintain a safe storage temperature for long periods of time, even with the door open, and countertop induction ranges provide faster, safer ways of cooking food in a convenient countertop unit.

Alluserv Healthcare Dishware
Alluserv healthcare dishware keeps food hot until it can be delivered to your patients while the plates remain cool for safe handling.

Alluserv Meal Delivery Carts
Alluserv meal delivery carts enable you to transport large amounts of plated meals at one time so patients can get their food in a timely manner.