18.21 Bitters Cocktail Syrups & Flavorings
18.21 Bitters Cocktail Syrups & Flavorings Create Unique Beverages for a Signature Drink Menu
The 18th Amendment was approved for prohibition of alcohol in America, while the 21st Amendment overrode it, and thus 18.21 Bitters was born to celebrate this historic time period. The birth of craft cocktails with the use of bitters can be attributed to the Prohibition era and the frequent need to make bootleggers' unregulated liquor palatable. 18.21 Bitters creates the same: premium cocktail bitters, tinctures, shrubs, syrups, and tonics for a cocktail that's worthy for Prohibition or modern day. Read more
Small-batch crafted in Atlanta, Georgia, 18.21 Bitters cocktail syrups & flavorings use only fresh ingredients to create balanced flavor profiles. Their products stand well on their own, but they are also ideal for boosting the complexity of your signature drinks. Designed for the novice bartender and skilled mixologist alike, add 18.21 Bitters to your repertoire in your night club or speakeasy.
18.21 Bitters Bar Drink Mixes
18.21 Bitters bar drink mixes & mixers extend your cocktail list to give your customers plenty of options for their night out.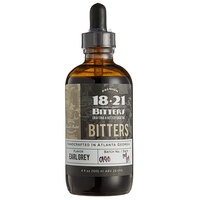 18.21 Bitters Cocktail Bitters and Concentrated Flavors
18.21 Bitters cocktail bitters and concentrated flavors use high-quality ingredients to create everything from classic to creative cocktails for an upscale menu.