JT Eaton 423 Little Pete Multiple Catch Mouse Trap
Safe shelter design attracts mice
Rodent enters side hole and follows a pathway to the main trap holding area
Humane option for disposing of mice
Trap doesn't require bait and can be reused
Cost-effective solution for eliminating rodents
Easy to release and reset
Up to 55% narrower than standard traps
Can catch up to 9 mice at a time


View all J T Eaton & Co Rodent Control Products
J T Eaton & Co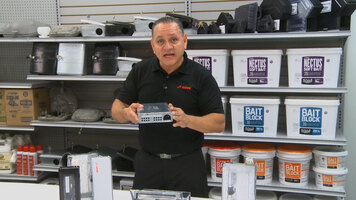 Repeater, Speedy Clean, and Little Pete Multiple Catch Mouse Traps
I'm James Rodriguez with JT Eaton. What I'm going to show you now is our multiple catch traps. We have our Repeater, our Speedy Clean, and our Little Pete line. We have our solid lid, we have our clear lids, we have our powder coated units. The great thing about these units is that they catch multiple mice at once time. The larger units can catch up to 30 mice at one time. The smaller units we can catch about 7 mice at one time with a single placement and a single device. We have folded edges, and we also added pop-down feet for high moisture areas. With our Speedy Clean units, we have something a little different. We have traps that you can actually pull out so you can clean the device so it's nice and sanitary. The powder units are great because they keep your device looking great for a long time. It's a true powder coating. It's baked on so dust and grime doesn't stick to it. These multiple catch devices, simply place it along the wall. See that little hole right there? Place that right along the wall because that's where mice like to run. When they see this opening, it's nice and dark, the mouse is going to go inside of here and he's going to think it's a harborage area, so place it right along the wall. The other item that we have is our 430 locking device. What you're able to do with the 430, is you're able to wrap it around a pole, a tree, a bush, and it locks right in place. In some areas where there's nothing to lock it to or there's nothing to secure it around, what we did is add this small washer so you can actually screw it to the wall so your traps stay in place and it locks it using a simple key with a half turn, and they fit on every one of our devices. Repeaters and Little Petes are easy to use and service. Require no bait to catch live mice. Trap like a pro! For more information on pest control and tips from a professional, please visit JTEaton.com. JT Eaton, a family-owned company serving the professional industry since 1932.
Learn about JT Eaton's lines of mouse traps! They each catch multiple mice at one time, helping to keep your establishment pest free.
Hi, I'm Dill Baker, and this is the new Little Pete from JT Eaton. The Little Pete has several features and benefits. First and foremost, as you can see, the edges are double-folded so there's no more cuts. It's half the size of your standard multiple catch live trap, so you can put it in places you wouldn't be able to put the standard Repeater or other multiple catch live trap. These are great for kiosks, for retail areas, or even for loading docks and/or warehouses so that forklifts can't get close enough to the wall to smash these. As you can see, these new Little Petes actually hold a thin strip blue board, which is called our universal blue board. A universal blue board comes in your standard size multiple catch live trap glue board. It happens to be perforated into three segments so that you can easily detach this, and then remove them to fit securely inside of the Little Pete or your standard multiple catch live trap. In addition to that, there is a three-sided observation holes, so that you can see what's happening inside or monitor for other insects. Little Pete's available in a galvanized solid lid, galvanized lid with an observation window, tough skin, powder-coated black with an observation window, tough skin, black solid lid, and tough skin, white, powder coating solid lid.
Learn more about JT Eaton's Little Pete and see how all its features and benefits are perfect for your establishment! Choose from a variety of options and styles.
J T Eaton & Co 423 Specs
Length
10 1/4 Inches
Width
3 9/16 Inches
Height
1 3/4 Inches
Material
Metal
Target Pest
Mice
Type
Multiple Catch Traps
J T Eaton & Co 423 Details
This JT Eaton 423 Little Pete multiple catch mouse trap is 55% narrower than standard multiple catch mouse traps, making it even better-suited for tight spots and high traffic areas! In spite of its 10 1/4"L x 3 9/16"W x 1 3/4"H dimensions, this trap can catch up to 9 mice at a time. This trap does not require any bait because the appearance of a safe and secure shelter draws in mice all on its own. It's designed so that rodents enter through one of the side holes, go through a door they can't reopen, and follow a ramp into the main area, where they're trapped.

The lid then easily opens and closes, allowing you to dispose of the captured pesks in a clean and humane manner. After emptying the unit, it can easily be reset for continued use, making it a cost-effective solution for getting rid of mice.
Resources for
J T Eaton & Co 423
Customer Reviews
People Talk About:

traps

Mouse

great

trap

mice

Eaton

release

better

catch

job

We caught 17 mice for release elsewhere over the course of two weeks with this. It says that it does not need to be baited, but I have found it works better with some food placed near the vents. It does need to be checked everyday or you will not have a live mouse to release. The window is large enough to see if you have any captives without moving the trap.

Very good Traps. I totally recommend it. is very good for your restaurant , is absolutely better than any other mouse traps. works good I love it.

This galvanized steel JT Eaton Little Pete multiple catch mousetrap is great. It minimizes the handling of rodents, and is not as gnarly to clean up as a spring loaded trap.

This is a great trap. Very small but does the job. This is a humane way to catch mice and free them somewhere else. Heavy duty and easy to use.

I have been using JT Eaton 423 Live Mouse Traps for over a year now and they are the best live mouse traps on the market. These traps gives your customers an option to release mice without harm OR allows the mice to stay in the trap until they can be removed at a later date "mouse expired". These traps are durable, cost effective and do the job. I also like the small size of these traps that are great for tight places. All of JT Eaton mouse trap products are great to use and Websturant Supplies has them at a great price with fast delivery!
Leave a review of this product!
If you've used this product, log in and leave a review to tell us and other customers what you thought about it.
Login or Register