Hoshizaki F-2001MWJ 30" Water Cooled Modular Flake Ice Machine - 208-230V; 1 Phase; 2043 lb.
Due to a manufacturer's price increase, this price will increase by 4% on 08/01/21
Produces up to 2043 lb. of flake style ice per day
Stainless steel auger with greaseless bearing produces the highest quality of ice
Advanced CleanCycle24TM design ensures cleanliness and leads to less down time for cleaning
2 second rinse every hour to clean the unit of sediment and impurities
Flaked ice is soft and easy to chew; 208-230V; 1 Phase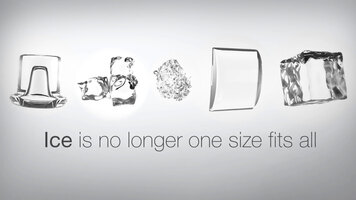 Hoshizaki is a global leader in the design, manufacturing, and marketing of equipment for the food service industry. Award-winning products combined with an extensive sales and service network make Hoshizaki the right choice. Hoshizaki stands out from the completion in three key areas: 1. Stainless steel exterior throughout our entire product line, 2. Stainless steel ice-making surface, and 3. Individual cubes. Ice is one of the most important items served in any food and beverage operation. And if you don't think so, see what happens when you run out. Ice is no longer one size fits all. The latest trends show that operators are demanding a variety of ice to meet each site application. Perhaps it's the cube ice for beverages, or flaked ice for seafood displays; it's important to know which type of ice is just right. At Hoshizaki, we offer three styles of cube ice: our signature crescent cube, the IM square cube, and our AM gourmet cube (or "top hat" shape). Let's look at each type in more detail so you can determine how to specify "just right" for the operation. Our crescent cube has been called the world's most perfect ice for good reason. Our exclusive design produces a hard, pure, crescent-shaped ice cube. Cuber ice machines have features which differentiate it: the stainless steel flat ice-making surface is durable with long-lasting construction. This makes it easy to clean and produces clear, pure cubes. Individual square cubes are designed for the discriminating customer. These hard, large cubes are a favorite of mixologists for adult beverages and specialty drinks. Top hat-style cubes provide a hard individual gourmet ice. They are perfect for offices, residential, rooms or suites, outdoor kitchens, and healthcare. In the flake category, we offer the traditional fine-flaked ice and cubelets, a larger chewable ice. Ice is formed in a barrel-type cylinder, moved upward through an extruding head, producing a dry, flaked, or cubelet ice. Available in a wide variety of configurations, our cubelet ice offers fast cooldown with good displacement. It's a customer favorite because it absorbs beverage flavors, allowing them to linger on your taste buds. Popular in produce and seafood displays, as well as healthcare, our flaked ice is a moldable ice that quickly cools down and maintains freshness of foods. All Hoshizaki models have a stainless steel exterior, providing the perfect combination of sophistication and durability. Hoshizaki is Energy Star Partner of the Year. At Hoshizaki, our performance says it all. We rank the highest in efficiencies in our reported product categories for Energy Star. Hoshizaki: The right choice.
Hoshizaki is an industry leader in manufacturing commercial ice machines. Food service operators have more choices than ever before when it comes to individual ice cubes. The gourmet / top hat ice shape is perfect for offices or hotels, while square cubes can be used to keep your crafted cocktails cold. Hoshizaki even offers chewable cubelet ice designed to cool down drinks faster or keep your seafood display chilled to the perfect temperature.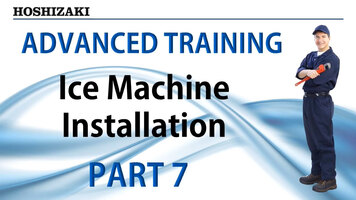 Hoshizaki Ice Machine Installation
The purpose of this video is to demonstrate the proper installation of Hoshizaki ice machines. While the KM cuber and flaker machines differ in some features, the installations are basically the same. In order to avoid problems after starting up, it is important that you install these machines properly the first time. There are several things you should do before installing the ice maker. First, take a look at the installation site. Remember, these ice makers are not intended for outdoor use. For best results, the ice maker should not be located next to ovens, grills, or other high-heat producing equipment. The location should provide a firm, level foundation for the ice maker and storage bin. Check the installation site to be sure there's an adequate water supply and proper drainage. Be sure to allow for a 6 inch clearance at the rear, sides, and top of the machines intended location to allow for proper air circulation and ease of maintenance and service. If you are installing an auger type ice maker, it is necessary to allow for adequate clearance above the unit to allow for during service. Next, inspect the exterior of the cartons for visible damage and unpack the storage bin. Make sure it is the correct bin for your application. Attach the four adjustable legs provided to the bottom of the storage bin and position it in the selected permanent position. Then, unpack the ice maker, being careful to save the registration cards located in the pouch on the carton. Also, remove all packing material and tape from inside the machine and remove the package containing the installation manual and accessories. Always refer to this manual or your Hoshizaki technician's pocket guide and carefully follow the instructions for installing the ice maker. To prevent damage, remove the outer panels before installing the ice maker. Now, check to see that the refrigerant lines do not rub or touch other line surfaces. On air cooled units, be sure that the fan blade turns freely. Check that the compressor is snug on all mounting pads. Finally, check the name plate to make sure that your electrical service is the same as the voltage specified. The gasket provided with the Hoshizaki bins provides an adequate seal between the two units. Place the ice maker on top of the storage bin and secure it by using the two mounting brackets and four bolts provided. Level the ice maker storage bin in both the left to right and front to rear directions using the adjustable bin legs. If you're stacking two S units on a single bin, remove the top panel and ABS evaporator cover from the lower unit. Set the second unit on top and secure it with the brackets provided in the accessory package. Remove the bin control holder and bulb from the top bracket and round it to the bottom unit bracket, taking care not to touch the suction or discharge lines or the compressor base with the controlled capillary tube. Use the top bulb holder to secure it to the bottom bracket. Plug in both bin control plugs and be aware that Hoshizaki stacked units operate independently of each other. When making the electrical connections, it is important that they be made in accordance with the instructions on the warning tag provided with the leads in the junction box. Make sure the white leads are connected to the neutral conductor of the power source. To prevent possible electric shock or damage to the machine, be sure to install a proper ground wire to the ice maker. On 208/230V single-phase applications, a dedicated neutral wire is required by national electrical codes. A separate power supply or receptacle is required for the installation of each ice maker. Be sure to check the name plate for proper capacity. On units requiring the installation of a remote condenser, the unit must be installed in a permanent location. If the condenser unit supplied is not the appropriate Hoshizaki condenser, be sure that the application has been approved in writing by the Hoshizaki technical support department. The installation site should be firm and flat. The location should also be dry and well ventilated. This means locating the unit away from standing water and providing 24 inch clearance on both the front and rear of the unit. Also, when locating the condenser, keep in mind that the maximum refrigerant line length with a factory charge is 66 feet. This can be extended to a maximum of 100 feet with an additional charge. Consult the manual for recommendations for line size and charge amounts. To install the remote condenser unit, first remove it from the carton and secure the legs squarely with eight M8 by 16 mm hexagon bolts and M8 nuts. Next, secure the legs to the roof curb with eight bolts in the eight mounting holes. When installing two remote condenser units, you may stack them to save space. Attach the upper condenser unit on top of the lower unit and secure it with the four screws provided. When installing two copper tubing sets between the ice maker and condenser units, take extra care to mark the refrigerant lines and electrical connections. This will assure that they will not get crossed during installation. Each copper tubing should be sized properly and insulated separately. Pre-charged tubing kits are available from Hoshizaki America in 20, 35, and 55 foot lengths. Line sets fabricated on the job should be evacuated through the charging ports on the Aeroquip couplings and charged with refrigerant vapor to a pressure of 15 to 30 PSIG. Pre-charged tubing kits do not need to be evacuated. To connect line sets to the ice maker and condensing units, remove the plastic caps that connect the couplings and place a small amount of clean, dry refrigerant oil on the O rings and male threads on each connection. Connect the refrigerant lines with the proper-sized Aeroquip fittings to the connection of the condenser unit and ice maker. Then, tighten the fittings until they bottom out, and turn them 1/4 round more. This provides a leak free, brass to brass seal. The fan controlled wiring in the ice making unit requires a 3 wire circuit. To connect the circuit, first remove the panel and junction box cover from the condenser unit. This circuit should be routed through seal-tight conduit. A disconnect may be required by a local code. Connect the fan motor leads in the junction box of the remote condenser unit to the fan motor leads in the junction box of the ice maker. A proper ground wire is required to prevent possible electrical shock. The ice maker inlet water line must be sized correctly for proper operation. Check your manual carefully to be sure which size is required for the ice maker you are installing. Depending on the local water quality, the installation of an external filter with an adequate flow rate may be required for the ice making inlet. The water supply pressure should be a minimum of 10 PSIG and a maximum of 113 PSIG. If the pressure exceeds 113 PSIG, you will need to install a pressure reducing valve. On water cooled models, two separate water supply inlets are provided: one for the ice making inlet and the other for the water cooled condenser inlet. The drain outlet for the ice maker reservoir uses a 3/4 inch female pipe thread or FPT. The drain for condensation is a 3/8 inch ID pipe. Be sure the ice maker drain and the condenser drain piping connections are made separately from the bin drain. Hard piping with copper or PVC is recommended. On water cooled models, a separate 1/2 inch FPT connection is provided for the condenser drain outlet. All Hoshizaki ice makers should be installed in accordance to all applicable national, state, and local regulations. Also, a back flow preventer may be required by local codes. Now that you have installed the Hoshizaki ice maker, review the final check list provided in the installation manual. At the point that the list requires you to start the ice machine, flush the water system thoroughly and check the unit for proper operation. Check the bin control switch for correct operation and position. This can be accomplished by holding an ice cube in contact with the bulb while the ice maker is running. The machine should stop within six to ten seconds. Once the installation is complete, carefully score the edges of the protective plastic film and peel the film from the exterior panels. Make sure to give the end user the instruction manual and review the operation of the ice maker, stressing the importance of performing the recommended periodic maintenance. Also, be sure to give the end user the name and phone number of an authorized service agent. Remind them to fill out the warranty tag and forward it to the factory for warranty registration. Once you have successfully completed the check list, you can be sure that the Hoshizaki ice maker is installed correctly and will avoid the unnecessary problems that sometimes occur due to improper installation. Remember, while this video has shown you the proper installation procedures, you should always refer to the ice maker manual or your Hoshizaki technician's pocket guide for detailed installation information.
Properly install your Hoshizaki ice machine with these step-by-step instructions!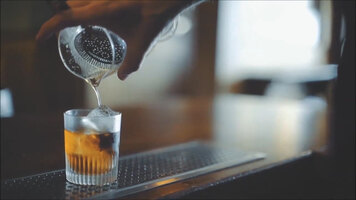 Hoshizaki Ice: The Most Important Ingredient in Drink Making
I'm Jenner Cormier, We're here today at our beautiful bar, Isabelle, going to make you guys a few drinks with Hoshizaki ice, our preferred choice. We're going to start with some chocolate bitters, going to add in 2 dashes of those. Followed by some fresh meyer lemon juice, and a barspoon of homemade yellow plum jam. You could substitute in just about anything, in this case. Anything seasonal, anything with some nice sweetness, some nice brightness. That'll act as our sweetening agent as well. We're going to add a little bit of fresh mint, just going to use some of the leaves, leave that sprig for garnish. We're going to add some overproof bourbon, a nice healthy ounce. Followed by an aromatized wine, full French. So we're going to add some ice in here, give it a good shake. Today, we're lucky enough to be using Hoshizaki's crescent cube, which is going to give us a really nice chill on the drink without over diluting. Now we're going to fine strain this into a chilled glass. See we don't have many ice shards? It's that wonderful, dense, crescent cube we used. Going to quickly chill down our mixing vessel, with this wonderful 1" cube from Hoshizaki. We're going to jump right in, 2 dashes of bitter truth Jerry Thomas bitters, followed by a healthy half ounce of moscow, we will follow that up with a nice artichoke flavored amaro. Tie that drink together with Plantation's pineapple rum. So we're stirring this drink with Hoshizaki 1" cubes, they're nice and dense, so we're going to get a really wonderful chill with just the right amount of dilution that we're looking for. We're going to strain that into a nice, chilled, old fashioned glass, and we're going to express an orange zest over the surface of the drink. I think that far too often, ice is overlooked as a main ingredient in drink making. You can depend on Hoshizaki's ice to produce a consistent, final product.
Ice is a main ingredient in proper drink making, and thanks to Hoshizaki, you'll always have a dense, perfect ice cube for drinks. Watch this video to learn more about how Hoshizaki ice aids in making wonderfully chilled products every time.
Hoshizaki F-2001MWJ Specs
Width
30 Inches
Depth
27 1/2 Inches
Height
34 7/16 Inches
24 Hour Ice Yield
1,251 to 3,400 Pounds
Ice Type
Flake Ice
NSF Listed
Yes
Type
Ice Machines
Customer questions about this product
How do I match up ice machines, bins, and dispensers?

To help you find the right bin / dispenser / machine combination for your needs, you'll find manufacturer recommended ice bins and dispensers listed in the You May Also Need items on each ice machine's product page. Dispensers and ice bins will have manufacturer recommended ice machines listed in the You May Also Need items on their pages. If the bin or dispenser is wider than the ice machine, additional adapters, deflectors, and/or top kits may be necessary to join the machine to the bin. Please refer to the provided documentation on the ice machine and ice bin / dispenser product pages for more information.

Additionally, adapter and deflector kits can be used to match up ice machines with other types of bins / dispensers. When available, literature from the manufacturer regarding bin/ dispenser / machine compatibility and adapter / deflector kits is also included on our product pages and is kept as up-to-date as possible. If you have any questions, our Customer Solutions team is also happy to help!
Why does my water cooled ice machine use more water than is advertised?

Water cooled ice machines will seem to use more water than they should because they are constantly pulling in water to cool the machine when it's turned on. The water usage that most manufactures list is the amount of water needed to produce a certain number of pounds of ice in the given period of time, but doesn't factor in the amount of water that the machine will use in total.
Why is a water filter automatically added to my cart with this item?

The use of poor quality feed water may void your equipment's warranty. Therefore, it's important that your water be filtered to the highest quality and a compatible water filter will be included when you add this piece of equipment to your cart. You may remove the filter from the cart prior to purchase.
How can I figure out the total daily water consumption of my water cooled ice maker?

In order to figure out the total daily water consumption you must take into consideration both condenser cooling water as well as potable ice making water. The equation is as follows:

(Potable Water + Condensor Water) x (lb. of ice per day / 100)

Example: (12 gal + 124 gal) x (400 lb / 100) = 544 gallons per 24 hours
Will this ice machine meet my business's ice demand?

Every business type has unique demands for ice. If you have any questions about how much ice you'll need please reference our Types of Ice Machines buying guide.
My ice machine has been shut down, or not in use since the COVID-19 shutdowns, how should I restart it?

If your ice machine has been shut down or not in use for a prolonged period time, please reference your machine's user-manual for a restart procedure, often called "Winterization." Please reference your user manual or contact customer service with any questions.
Ask your own question!
Hoshizaki F-2001MWJ Details
Easily produce up to 2043 lb. of ice per day with this Hoshizaki F-2001MWJ 30" water cooled flake ice machine. Perfect for virtually any food service operation, hospital, school, or resort, the unit boasts a relatively compact design for the vast amount of ice it produces. Each flake measures approximately 1", providing small flaked ice that's great for healthcare facilities because it's so easy to chew. It is also a perfect ice choice for chilling fresh food items such as meat and seafood in displays or in buffets.

For impressive performance, the unit operates with Advanced CleanCycle24 technology and flushes out sediment and other impurities to promote high-quality output. One flush cycle runs automatically per hour, taking a mere 2 seconds to ensure ice is clear and crisp! H-GUARD Plus antimicrobial agent is built-into the unit, too and also promotes water quality.

To save on space, you can mount two units, side-by-side, for double the amount of ice production while only taking up 60" of floor space. When the demand for ice is high, an operation requires a reliable, durable ice machine. This one is built with a strong and sleek stainless steel exterior, and even features a stainless steel auger. To help reduce regular, required maintenance, the auger is paired with a greaseless bearing for long-lasting, smooth operation. This machine requires a 208-230V electric connection. See compatibility chart for compatible remote condenser (sold separately).

Overall Dimensions:
Width: 30"
Depth: 27 1/2"
Height: 34 7/16"
This Item Ships via Common Carrier. For more information and tips to help your delivery go smoothly, click here.
Because this item is not stocked in our warehouse, processing, transit times and stock availability will vary. If you need your items by a certain date, please contact us prior to placing your order. Expedited shipping availability may vary. We cannot guarantee that this item can be cancelled off of the order or returned once it is placed.

NSF Listed

This item meets the standards imposed by NSF International, which focuses on public safety, health, and the environment.

UL Certified

This item has been tested and meets the standards imposed by the Underwriters Laboratories (UL). Refer to the Enhanced UL Mark in this item's documentation for more details.

Hardwired

This product must be hardwired; it does not plug into a standard wall outlet.
Resources and Downloads for
Hoshizaki F-2001MWJ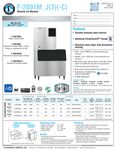 Specsheet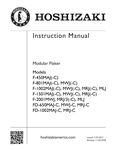 Manual
Manual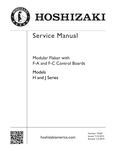 Manual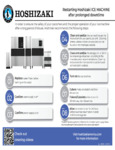 Instructions
Warranty
Ice Maker Calculator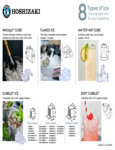 Ice Types Guide
Compatibility Chart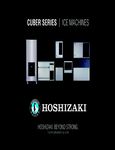 Brochure
A PDF viewer is required to view this product's information. Download Adobe Acrobat software
Warranty Info
Note: warranty may vary depending on equipment production date.
Leave a review of this product!
If you've used this product, log in and leave a review to tell us and other customers what you thought about it. Get paid up to $16 for submitting one of the first text, photo, or video reviews for this item. View your account for details.
Write a text review
Earn $2.00
Post a product photo
Earn $4.00
Post a product video
Earn $10.00
Login or Register