How to Reopen a Restaurant
When natural disasters or pandemics strike, you may be forced to shut the doors of your business for a little while or adapt your business model for a crisis. With the novel coronavirus, many restaurants experienced financial burdens that put them out of business while stay-at-home orders limited access to customers.
The timeline for a full reopening is unknown, but as quarantines phase out slowly, you can start planning for your grand reopening. As life begins to establish a sense of normalcy post-crisis, we prepared a list of steps that you can take to reopen your restaurant doors.
Shop All Social Distancing Supplies
Checklist for Reopening Your Restaurant After a Crisis
Opening your doors again after a crisis will require planning ahead and some changes to how you run your business. By using the National Restaurant Association restaurant reopening guidelines and our suggestions below, you can get your restaurant up and running in no time. Be sure to check with your state and local jurisdiction for the most up-to-date guidelines.
1. Clean and Sanitize Your Space
Whether you have been out of your space for weeks or have been checking in periodically, the first step you'll want to take towards opening back up is to thoroughly clean and sanitize your restaurant.
Be sure to clean the back-of-house and the front-of-house using our restaurant cleaning checklist.
Clean and sanitize seldom-touched areas along with your high-touch areas.
Clean under and in between items, such as countertop equipment and point-of-sale equipment.
Use food-safe cleaners in food-prep areas and on any surfaces that will come in direct contact with food.
Wash, rinse, and sanitize food-prep tools and smallwares before using them again.
Clean and sanitize shelving units before restocking.
Thoroughly clean and disinfect all restroom areas.
Sweep, vacuum, and mop the floors.
Once you have completed a deep cleaning of all the spaces in your restaurant, create a rigid cleaning schedule for your staff to follow once you are open to the public.
2. Turn on Your Equipment
Before you can reopen, you'll need to make sure that your equipment is still in functioning condition. Turn on your equipment a few weeks in advance so you have time to replace any units that need to be upgraded.
Turn on refrigeration equipment and ensure that all refrigerators, walk-in coolers, display cases, and prep tables hold a temperature of 40 degrees Fahrenheit and below.
Turn on freezers and ensure that they hold a temperature of 0 degrees Fahrenheit and below.
Turn on the gas line and relight pilot lights on cooking equipment. You might experience some smoking at first as any condensation burns off.
Check that all ovens and cooking equipment reach a full range of cooking temperatures.
After a few weeks sitting idle, air pockets can form in gas lines, so it would be wise to contact a technician to get your equipment back online if you are not comfortable doing so yourself.
3. Check Your Food Inventory
For your restaurant to get rolling again you'll want to make sure your food inventory is fresh and ready to be incorporated back into your menu.
Discard any expired and out-of-date food, or food that may have been damaged by pests.
Cross-reference your stock with your intended menu and form a shopping list.
Contact your typical sources and vendors to ensure that they have enough supply to meet your needs.
4. Put Social Distancing and Contactless Practices in Place
To open your location to the public, you may need to make some changes to the way your customers interact with your establishment in order to keep your customers safe. With the coronavirus, social distancing practices and contactless procedures may linger for a while as businesses are allowed to reopen their doors to in-person interactions.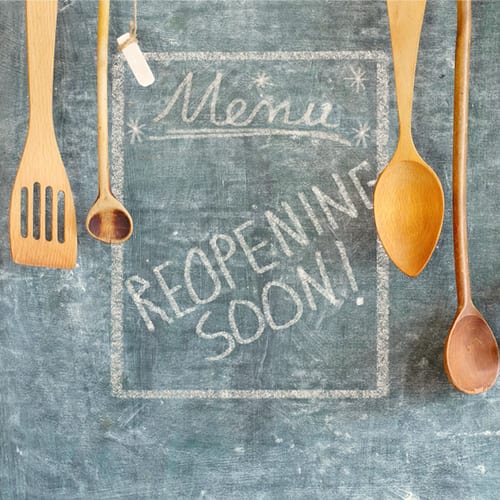 Make sure your lines allow for 6-foot spacing between customers if you have counter service. Set up barriers where needed.
Reduce the number of tables in your dining area to add distance between diners. Make sure each table is sanitized when it is being bused for the next customer.
Add partitions between staff and customers wherever possible (hostess counters and cash registers).
Create a flow that customers must follow through your establishment to mitigate close proximity.
If possible, have customers use a different exit door than the entry door.
Provide touchless hand sanitizers for customers at the doorway and before foodlines.
Use disposable paper menus or digital ordering when possible.
Install contactless payment systems and hardware.
In bar settings, switch to individually wrapped straws. Avoid using skin-on fruits such as lemon, lime, or orange wedges in cocktails.
5. Train Your Staff
Chances are that your sense of normal will change following a crisis, so it is important that your staff is trained to adapt to the situation and practice the changes that you have put in place before you open.
Hire additional staff if needed to help you keep up with demand and sanitation.
Train staff on new cleanliness and social distancing practices.
Enforce frequent handwashing and glove wearing where necessary to prevent the spread of contagions.
If masks are worn, ensure your staff knows how to properly use them.
Require employees to be healthy when reporting to work. Make sure they know when to stay home and how long they must remain home if they feel ill. This information should also be included in your business's restaurant employee handbook for reference.
Provide pre-work temperature screenings if necessary.
Train staff on new contactless delivery practices and contactless in-house methods for interacting with customers.
Make sure your staff has the appropriate food handler's licenses and that those licenses are up to date.
6. Be Ready for an Inspection
Before you can reopen, your location may need to pass a health inspection once again. Stay up to date with the latest health guidelines so you can be ready when the time comes.
Contact your local health department to find out any inspection requirement updates that have been added since the crisis.
Clearly identify your plan to your staff during training so they are ready for an inspection.
Create a cleaning schedule and a social distancing plan that you can show your inspector when they come.
7. Advertise Your Reopening
Once you know the date that you can open your doors to the public again, let your customers know so that they can anticipate your reopening and plan their visit.
Advertise your reopening date on your social media page with either an eye-catching image or personal video to your customers.
Feature a countdown on your website and in your storefront window to build excitement for opening day.
Offer a discount or coupon for the first 100 customers to visit or place an order to incentivize customers to keep your business in mind.
Promote the sale of gift cards to be used when you open to stimulate your budget.
Advertise what you did to clean and update your business while you were closed.
8. Ease Into Reopening
It may be tempting to go right back into it full-swing once you get the okay to reopen, but easing into your reopening will set your business up for success in the long run and keep your customers safe.
Host a soft opening with friends and family to try out any new menu items and test mitigation practices.
Start off with a limited menu and a delivery menu to ensure that you have enough supplies to keep up with demand and keep your kitchen working efficiently.
Limit the number of tables in your dining room and reduce the number of dine-in customers by taking reservations and call-ahead customers. Reduce party sizes you accept in your dining room to retain social distancing practices.
Encourage contactless payment methods by investing in Tap-To-Pay systems and POS tablets that can be sanitized between customers.
Encourage pick-up orders and delivery options until you can operate at full capacity.
Establish a texting system that will notify customers when their table is ready instead of having them wait in waiting areas and lobbies.
Start with a ghost restaurant business model if you can't reopen seating areas yet or were not able to retain your physical restaurant location through the crisis.
Open your patio space to facilitate outdoor dining. Be sure to check with your local jurisdiction about the rules of sidewalk use to space out diners as they enjoy their meal at your location.
9. Make a Good Impression
Your main priority following a crisis is to have a smooth reopening and make sure that your customers feel comfortable becoming patrons of your business again.
Maintain contact with your customers through the reopening process and give them a behind-the-scenes look at what you're doing to ensure your space is safe via social media, newsletters, or website posts.
Make sure that your customers are treated with care and respect when they are in your building. Train your staff to try and remember names and repeat orders to form a relationship with regulars.
Advertise the extra steps you are taking to keep your business clean and your customers safe on your website and with fliers in your business.
Ensure that your cook times and delivery times are speedy and professional.
Caring for Your Closed Restaurant
In the meantime, while you are still closed during the coronavirus pandemic, here are some steps that you can take to care for your restaurant:
Power off equipment and consolidate refrigerator storage
Promote gift cards
Make menu adjustments
Review your employee handbook
Get your staff ServSafe certified
Familiarize yourself with new technology and marketing practices
Keep your customers updated
During a crisis, it may be hard to visualize life returning to normal. It's important to form a plan early so you can make adjustments along the way and be ready to get your restaurant back on its feet as soon as possible. The coronavirus may have shut many doors, but by thinking ahead you can be one of the first businesses available to customers once quarantine begins to lift.

Posted in:
Management & Operation
| By Janine Jones