Advice from a Young Business Owner: Interview with Taylor Glessner of Dough and Co.
Since we were kids, we've all been told that cookie dough is something we can't eat. That being said, most of us would probably sneak a taste out of the mixing bowl when our parents weren't looking. Today, eateries are popping up around America to give us egg-free cookie dough that we don't have to feel bad about eating. We spoke with Taylor Glessner, owner of Dough and Co. in Lancaster, PA, to learn more about her edible cookie dough business. Taylor shared with us how Dough and Co. came to be and what she thinks is the greatest tool for growing a small business.
The Story of Dough and Co.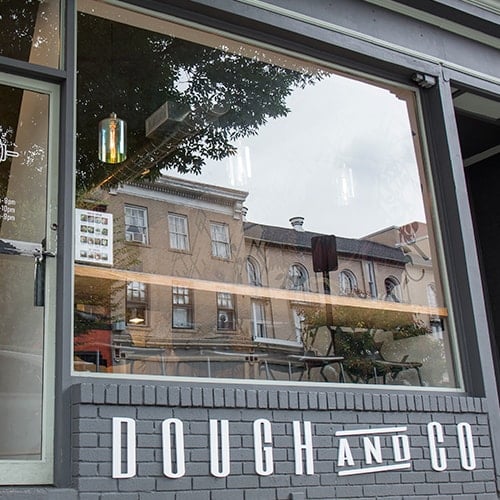 After some time working as a wedding photographer, Taylor made a career change and opened Dough and Co. in March 2018 at the age of twenty-two. While she has always liked working with people, Taylor told us that she had never imagined herself owning a business with a storefront.
Taylor's shift in focus came while taking a business course, for which one assignment required drawing up a hypothetical business concept. She created Dough and Co., but she did not decide to pursue the business until she received some encouragement from others. With the initial planning stage of her business behind her, Taylor said, "It's been awesome, overall, to see people come together and support someone like me in this entrepreneurial journey."
Making Dough and Co. a Part of the Lancaster Community
When we asked why she chose cookie dough as the center of her business, Taylor emphatically answered, "Why not?" She explained that she believes cookie dough is something that is loved by all ages, and because it's something that most people grew up with, cookie dough can bring people together. In Lancaster, that has proven to be true.
Dough and Co. had 2,000 customers at its grand opening. "That means that we helped someone from order to checkout every 30 seconds," Taylor says about their busy first day.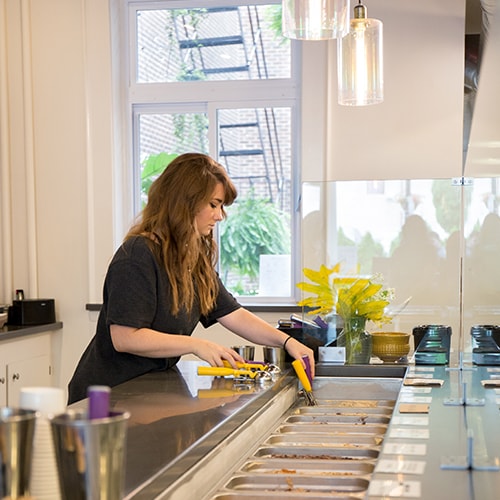 The shop has seen a lot of growth since opening in March, and if you visit, it's not hard to see why. A welcoming space with Instagram-worthy decor, comfortable seating, and a plant-adorned patio keeps customers coming back. Not to mention, Taylor greets customers with a smile, introducing herself and offering help to patrons who are tempted by too many options to decide what to order. In the shop, you'll see families, couples, and friends coming in to chat over some dough and enjoy the homey atmosphere.
The Challenges and Advantages of Being a Young Entrepreneur
Because she opened Dough and Co. at twenty-two, Taylor has approached her business in a different way than many other business owners. "You have to have the spirit of learning," she says. Taylor argues that her age has given her a unique drive and perspective, but her youth also means that she doesn't have quite as much experience to bring to the table as a seasoned business owner. As a result, Taylor said that she realized how important her support system is.
People Are Your Greatest Asset
Taylor credits people as the most useful tool for growing her business. "I think something that is very important is finding people who can cover your weaknesses and bring out their strengths," she said, reflecting on the aid she received while working to bring her business to fruition. "When you have a good team surrounding you," she said, "I think that can be your greatest asset."
When we asked for her advice to young people who are interested in starting a business, she replied, "Go for it. You never know what you're capable of until you try, and you can probably do more than you think you can."
There's No Co. without the Dough
Taylor told us that a lot of trial and error went into making Dough and Co.'s recipes just right. First, they developed a base recipe that is used for all of their flavors. From there, experimentation and adjustments led to the creation of the twelve flavors that the shop currently offers. These range from classics like chocolate chip to fun varieties like birthday cake and s'mores. Plus, they offer limited-time and seasonal flavors.
But don't walk into Dough and Co. thinking that the cookie dough will look like it did when we'd sample from the mixing bowl in childhood. The shop has a long, chilled display case that shows off the flavors just like in an ice cream shop. You can get your scoops in a cup by themselves or with some ice cream, or you may opt for a cookie dough milkshake or crepe sundae to really indulge.
What's Next for Dough and Co.?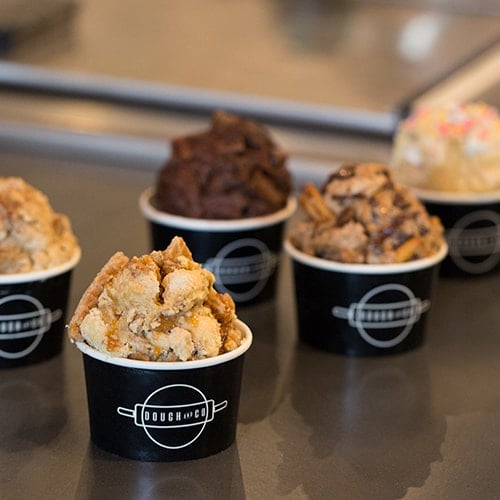 A few months after opening, Taylor bought a food truck to bring Dough and Co. to events like weddings, birthday parties, and more. Plus, August 2018 saw the shop introduce its first line of baked goods for sale. In Dough and Co.'s future, Taylor hopes, there will be "new products, more from the food truck, and more exposure to the community."
Dough and Co.'s story shows how a great business can become integrated into its community. Despite some obstacles brought on by Taylor's age, this edible cookie dough shop has provided Lancaster, PA with a spot to spend time with friends and family while eating a familiar—if not usually forbidden—treat.
To learn more about Dough and Co. and their offerings, check out their website or visit them at 46 N Prince St. in Lancaster, PA.

Posted in:
Foodservice Trends
|
Interviews
| By Christine Potts