Pancetta vs Prosciutto
Many people wonder what the difference is between pancetta and prosciutto. Good news, we have the answers to your questions! Discover what pancetta and prosciutto are, how to pronounce them, and how both of these cured meats can be paired with cheese for a charcuterie board.
Shop All Pork Products
What is Pancetta?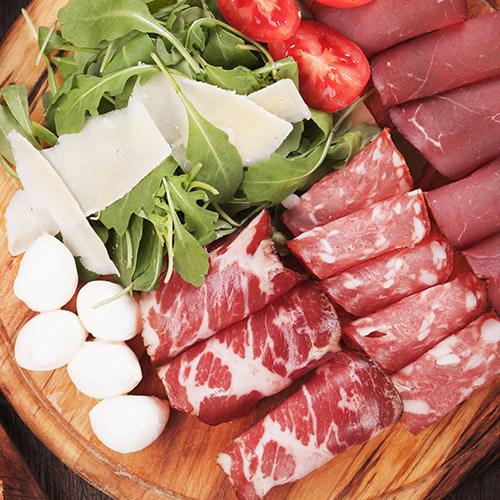 Pronounced pan-chet-uh, pancetta is a type of salami made of cured pork belly meat. Originating in Italy, pancetta is traditionally found in soups and pasta dishes, which helps add more flavor and depth to the recipes. Pancetta is closely related to bacon and can be substituted in most recipes.
What is Prosciutto?
Pronounced as proh-shoo-toh, prosciutto is a type of cured meat originally from Italy. Prosciutto is a thinly sliced meat that comes from the hind leg of a pig and can be found in common pasta entrees, on flatbread pizzas, or paired with different types of cheeses on a meat and cheese tray. Prosciutto can be swapped with closely related salt-cured meats like salami.
The Differences Between Pancetta and Prosciutto
Even though pancetta and prosciutto originated in Italy and come from pigs, they are very different. Here are the differences between pancetta and prosciutto:
Pancetta
Meat from pig belly
Cured meat and must be cooked before eating
Usually contains more fat
Prosciutto
Meat from the hind leg of the pig
Salt-cured and does not need to be cooked
Very lean cut of meat
Simple Charcuterie Board Ideas
Now that you understand the differences between pancetta and prosciutto, you can create your own meat and cheese platter! Continue reading to find out how to make a simple charcuterie board.
Different Types of Meat
Choose one or all of the following meats to craft your charcuterie board.
Prosciutto
Salami
Bresaola
Chorizo
Different Types of Cheese
Make sure to pair your choice of meats with different types of cheese from the list below.
Aged Cheddar
Gouda
Goat
Gorgonzola
Charcuterie Board Extras
Pair your prosciutto and cheese with charcuterie board accessories like jam, olives, and fruit. Ideas for these are below.
Fig spread
Kalamata olives
Green olives
Grapes
Apples
Butter crackers
Sliced baguette
Pancetta and prosciutto are two kinds of meat that originated in Italy. With the many different uses for both pancetta and prosciutto, you can make a wide variety of dishes for your menu. Experience a taste of Italy with these two different meats.
Posted in:
Kitchen & Cooking Tips
| By Angalena Malavenda