Ateco 7510 7 1/2" Plastic Rolling Pin
Specifically designed for rolled fondant and gum paste
Creates a smooth, even presentation
Great for decorating cakes, cookies, and more
Perfect for bakeries and specialty cake shops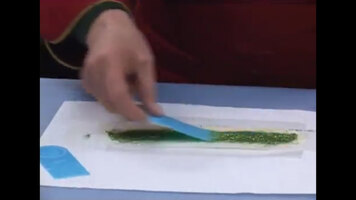 Ateco Small Roller, Piping Gel, and Shaker
Hello, I'm Julie Bashore from the Sugar Arts Institute and I'm going to show you how I work with the Ateco icing spreader. It's a little, plastic tool with ribs one end for easy gripping. It has flexibility so it is easy to spread. I have fondant rolled out and I am going to place a very fine, delicate stencil over the top of the fondant and roll with even pressure until the fondant peeks through the holes of the stencil. It's important to make sure that it peeks through the holes, otherwise your icing or piping gel is going to ooze and spread. If you have the fondant peeking through the holes, you are sure to have nice, clean, and crisp edges. I'm going to be working with the Ateco piping gel. It's a clear gel and I have it on the end of my spreader. I'm going to spread it firmly, yet gently over the holes of my stencil. Make sure that it is evenly spread and then use the Ateco shaker to shake some edible glitter over the stencil, making sure that all the holes are covered. With a second spreader, just go over the glitter and make sure that it is evenly spread and firmly placed on the stencil. Very gently, peel the stencil away to reveal your glittered pattern!
Use Ateco's small roller, piping gel, shaker, and icing spreader to create beautiful patterns on your fondant. Simply find a stencil with a pattern you like, grab some edible glitter, and begin designing works of art!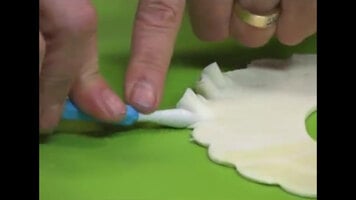 Ateco Sculpting Set, Shaker, Cutting Wheel, and 7 1/2" Roller
Hi, I'm Julie Bashore and I'm going to highlight 10 Ateco tools that I use for ruffling. Here, we have the tool set with a wide variety of tools that are double sided. We also have the Ateco shaker, 2 offset pallet knife spatulas, the Ateco cutting wheel, fondant wheel, the 2 inch food grade bristled brush, the jumbo bore tool that I co-designed with Ateco in conjunction with the jumbo ruffle cutter and the jumbo ruffling pad. Last but not least, we have the miniature 7 1/2 inch plastic rolling pin. Let me introduce you to each Ateco tool. This is the 7 1/2 inch plastic rolling pin that I use for rolling fondant really thin and making it even and smooth. Secondly, we have the jumbo ruffle cutter. It is a scalloped cutter that is nice and large and it cuts out big ruffles so you aren't rolling and cutting constantly. Instead, you can do it all in one go. Use the pallet knife to remove the center and then use the jumbo ruffling pad to soften the edges. Lightly dust it with corn starch and use the food-grade bristled brush to smooth it out. It's an excellent Ateco brush and you'll find that the bristles will hold firmly without pulling out over the fondant. The next tool that we are going to use is from the Ateco set. It is the shell tool. I'm going to use this to indent a shell design into my ruffle while working on the ruffling pad. After that, I'm going to work with the bore tool to cup the edges. This is if you want a slight cup and a little curl to the ends. However, I also have the jumbo bore tool. By working with the larger end of the jumbo bore tool, you can achieve a more delicate design and impression. The next tool I will be working with is the ruffling tool and I'm going to ruffle directly on the mat. This tool is cone shaped and we need to catch the edge of the gum paste and fondant with the wide edge. You can very simply roll it around the edge and get a more defined ruffle that depends on the final look you are trying to achieve. The secret of success is to keep the ruffle's edge right on the edge of the tool. To open up the ruffle and give a nice, neat edge to the center, cut it open and use the bore tool. Trim off the center edge with the fondant wheel because sometimes it can dry out depending on the weather. Rather than having a cracked edge, you can simply trim it with the wheel. Working again with the bore tool, you can make scallops on the opposite end. I just catch the end of the gum paste and fondant and push it out gently with the bore tool to finish it off with a nice scallop. With the miniature bore tool, we can do a more delicate design by using the same technique. This gives a nice, clean, finished edge to your ruffles. Finally, with the shell tool, you can use the shell to do a design on the edge so it matches the ruffle design while creating a little scallop.
Watch as Julie Bashore demonstrates how to use Ateco's tools to create a ruffle. With Ateco's sculpting set, shaker, cutting wheel, and roller, you can create clean edges and delicate ruffles of your own!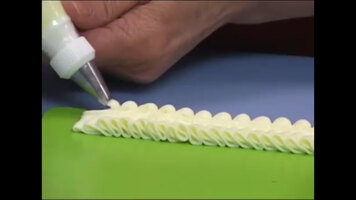 Ateco Piping Bags, Short Spatulas and Pastry Tubes
Hi, this is Julie Bashore from the Sugar Arts Institute. Let's have fun with some of the Ateco piping tips. Working with their disposable piping bags that come on a roll, they tear off really easily, I like to work with the smaller 12" bags but they also have 18". Working with a coupler, remove the nut from the base of the coupler and place the base in the bag as tightly as you possibly can. Working with a pair of scissors, above the screw marks, just cut the edge of the bag and remove that. And then you're going to choose the piping tube that you'd like to work with, place it on the top of the coupler, and screw it down firmly. This is a piping bag stand; it's very convenient, especially if you're piping alone or you don't want to interrupt anyone to fill the bags, it holds the bags really well and you can slip your icing in there. This is the short-ended Ateco spatula which is quite wide so it's really convenient for picking up the buttercream. Pull the bag up, place it on the table, and spread the buttercream down to the end. And then of course it's important not to forget to burp the bag. This piping tip that I'm using is a ruffling pipe piping tip, and it's absolutely amazing how quickly it works. Have a look, come in close. Doesn't that give an awesome ruffle? Let's work with another tip. This is the shell tip; don't forget to burp your bag. This is great for a border; in fact, I sometimes use it on the edge of my ruffle. It gives a really nice shell design. The tip itself is curved so it gives a nice puffy shell appearance to it. Ateco has a new set that they've brought out: polycarbonate plastic piping tips, they are large tips, very strong and very precise in the edging. This one is a basket weave design; it really makes an awesome border. Place the bag over the holder, again, don't forget to push the butter cream all the way to the edge and burp the bag. It has two edges, a flat edge and a scalloped edge so this makes a great ribbon design; you can also wiggle it or make just a ribbon and also wiggle this. Flip it over and wiggle. Great for basket weave.
Looking for just the right tools to decorate your cakes with? Try the Ateco piping bags, short spatulas, and pastry tubes! These tools will help you create weaves, ribbons, scalloped edges, and more that will leave customers impressed every time.
Ateco 7510 Specs
Length
7 1/2 Inches
Color
White
Material
Plastic
Style
Without Handles
Type
Rolling Pins
Ateco 7510 Details
This Ateco 7510 plastic rolling pin is a unique tool which is specifically designed for rolling fondant and gum paste. It is 7 1/2" long and made of a dense FDA-grade smooth, white plastic which is perfect for thick materials and safe for foods. With this small rolling pin, you can roll out the perfect amount of fondant to create flowers, designs, and unique creations to add the finishing touches to your most creative cakes. With its smooth design, this roller glides over the fondant flattening it so it's easier to work with. A great addition to any kitchen, this rolling pin is perfect for bakeries and specialty cake shops.

Bringing you innovation and quality for over 100 years, Ateco, an August Thomsen brand, has been internationally known in the industry for creating baking tools of superior craftsmanship and design. By continually improving on tools, materials, and packaging, Ateco is dedicated to providing professional bakers with the kitchen essentials they need to succeed in an ever-evolving industry!

Overall Dimensions:
Length: 7 1/2"
Diameter: 1"

Attention CA Residents: Prop 65 Warning
Customer Reviews
People Talk About:

rolling

fondant

pin

great

small

size

plastic

price

easy

stick

Arrange by

These are perfect little rollers, they still stick when working with butter and flour but what doesn't stick to butter and flour am i right

Good sturdy and hard plastic roling in nice size to work with and a great quality brand roller. Cant beat the price and cheap enough to buy multiuples

I needed a bunch of these rollers for my students to use in our high school culinary classes when we do our cake decorating unit. These rollers are going to be perfect. They were much cheaper than any other place I could find them and the quality is great. I am very happy that I found them on this site!

I purchased these Ateco 7 1/2" rollings pins for my decorating classes. They are fantastic for rolling out fondant for smaller details. Would purchase again.

Small but very mighty. I was looking for a small, but heavy one that would help with my tiny decorations, as I don't always have the largest work space. This product is excellent. And unless my marshmallow fondant is very sticky, I never need to dust this rolling pin. Great price too.

While this is specifically designed for fondant and gum paste (works great by the way…just use a little powdered sugar to prevent sticking), we also use it for travel in our camper. My wife loves to bake wherever we go, but drawer space is a premium in the camper. This is the perfect size to neatly tuck away and can be used with pastry dough as well with a little dusting of flour.

Another must have in a sugar artists tool kit! Perfect for rolling out small fondant work like toppers or cut outs. Ateco brand rollers always last a long time without yellowing.

This is a fantastic rolling pen I like the 7 1/2 inch long solid plastic it has a nice Texter on it which is great Gumpaste doesn't stick to it

The pin came exactly as pictured. It is a good weight and easy to use. I put sugar on it to make rolling fondant easier

well what can I say I have 3 of these and I will be getting more these are my best friends when making anything with gum paste, price is the best you will find and you can't just have enough of these in your kitchen EXCELLENT PRODUCT

Very small. Too small for my liking. However, it gets the job done. With nice even pressure fondant can be roll to whatever size and length needed.

Purchased this plastic rolling pin for marshmallow fondant which is typically stickier than regular fondant. This did a much better job than a wooden rolling pin and with significant less sticking. Its very solid feeling, flat, and impossible to bend. The size of it is quite small which judging by the pictures I figured, but in person it seems smaller. Holding it with both hands, I can cover 95% of it. If I place my hands on top of it in a rolling position i can cover it fully and then some. Depending on how you roll this may be problematic, but I knew this in advanced so I'm not lowering the rating on the size. For its purpose and the price, it works well and is affordable. Since it is plastic, its very easy to maintain and clean compared to wooden pins.

This rolling pin is just the right size to flatten my dough out for a manual dough divider pan. I use it to make sure dough is evenly dispersed in the pan to ensure an even cut when dividing.

This rolling pin is just good for the small pieces of fondant and its a good material and good brand i like it , it work so good

This Ateco 7510 7 1/2" Plastic Rolling Pin (August Thomsen) is light weight and easy to use with small amount of fondant. It do not come rings. Great product and price.

This 8 inch rolling pin works great for fondant! I like that I can use one or two hands depending on what I'm doing and the fondant doesn't stick to it so it works great! I highly recommend having it on hand.

This is a great rolling pin to have when doing small fondant decorations when you don't need the larger rolling pin. I use his way more often than a larger one and it works great! It's definitely a must have for fondant decorations!

This tool is a necessity for me. It's ideal for rolling small fondant projects. The fondant doesn't stick to it at all the simple design doesn't have handles or anything that could get in the way.

Wonderful for doing fondant work. The smooth plastic doesn't create any indents in the fondant and it is dmall enough to help with smaller pieces.

This is my go to roller for smaller fondant and gumpaste work. I use it several times a week for rolling out fondant for hand made decor for my cakes. It has held up perfectly and washes up well.

A must have for designing and decorating for cakes. It's the perfect size for most designs. I have the 4 1/2 rolling pin, and it's nice, nut this is great for most decorating needs.

The plastic rolling pin works really well for making dumplings. One can roll the sides down without the pin being an hindrance. The plastic allows for the flour to remain less sticky at times, but a little light dusting and your back to rolling. The price is fair for this pin.

This rolling pin is a nice size for your hand when doing small rollouts. It has a substantial weight for it's size to aid in rolling and with a light dusting creates a nice smooth surface.

I love this product! It is exactly what you want in a fondant smoother! The surface does not stick to fondant, and it is easy to control.]\

This pin is a good size for rolling fondant, it allows for great control, and the smooth, slick surface doesn't stick at all. Great product, great service, and great price from Webstaurantstore.com.

A must when rolling out pastry, fondant, chocolate modeling paste, and any other doughs. It is the perfect size and a must need in anyones kitchen, bakery and patisserie. I use this daily and not sure what I would do if I didn't have this great tool. So easy to clean and wash and then use it again.

another great products by ateco this Ateco 7510 7 1/2" Plastic Rolling Pin (August Thomsen) easy to use great for small fondant to flatten awesome !!!

Good little rolling pin for small jobs. The plastic is very durable and will stand up to lots of abuse in the dish pit. Definitely recommend it.

These little rolling pins come in handy when decorating and rolling fondant. Non-stick and durable, order a handful and you're set for quite a while.

This Ateco plastic rolling pin is fondants best friend , it makes rolling out fondant so easy and smooth! Also the small size makes it great for working with little details

Amazing quality for the price! It's very good for small jobs or dainty fondant work. Easy to clean and fits in any space! I love it!

I purchased this to roll out smaller pieces of fondant. Works great. I also have the larger size for when needed to cover entire cakes. Must have.

This small plastic rolling pin is perfect for rolling out small amounts of dough but is especially useful for fondant and gum paste. I use this when I am making small gum paste figures for cake toppers.

This is not a big Rolling pin but is great for small pieces of fondant can roll with one hand to get your dough flat quickly.

great rolling pin,great price and quality too,I do enjoy working with it it really helps me with my fondant I love the price and the quality!!!

Just as the other poster said, I also use this pin for making gum pastes. The paste absolutely will not stick to this pin which is very nice.

I love the small size of this plastic rolling pin. It is really convenient to use when working with gum paste. It is also easy to clean.
Get paid to review this product!
If you've used this product, simply log in and share your text, video, and photo reviews of it. The customers on the left did it, and you can too! Earn up to $16.00 per product.
Write a text review
Earn $2.00
Post a product photo
Earn $4.00
Post a product video
Earn $10.00
Login or Register