Find the Best Pizza Delivery Bags for Your Business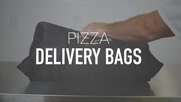 Perfect for delivering freshly-baked pizzas to hungry customers, pizza delivery bags are must-have food transport products. These items come in colors like red, black, blue, and green, so you can easily match them to your existing supplies. Additionally, these products are made of durable materials like nylon and vinyl, which means you can rest assured that they can stand up to daily use. Depending upon your business volume, we offer products that can hold large quantities of pizza and sandwiches. Because they feature insulation made of materials like polyurethane, polyvinyl chloride, and polyester, these bags will also keep your establishment's signature items hot during transport. Some of these bags are even dishwasher safe, so they're easy to clean in case of spills or messes. To learn more about the differences between these products, explore the tabs above and the filters on the left side of the page.
Other Insulated Food Carriers and Beverage Carriers
Designed to handle large and small orders, these insulated pizza delivery bags are just what your business needs to keep orders hot during transport. Choose from durable vinyl and glossy nylon exteriors with handy features like carrying straps, secure closures, and interior racks. Need other pizza supplies for your takeout service? Our corrugated pizza boxes allow you to serve hot pizza pies in style with decorative printed patterns and sturdy box constructions. Along with these boxes, don't forget about pizza stackers to prevent cheese from sticking to the top of your pizza boxes! Check out foil take out containers with lids for other Italian specialties that you may be delivering to customers including spaghetti, chicken parmesan, and ravioli. If you're wondering where to buy pizza delivery bags, we have a large selection of pizza delivery bags for sale at the lowest prices.