Find the Best Cut Resistant Gloves for Your Business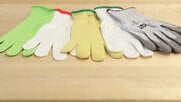 The safety of your employees is extremely important in the workplace. By providing your kitchen staff with the proper cut resistant gloves for the tasks they're preforming, you can rest assured knowing they'll have a layer of protection between their hands and sharp blades. Our gloves are made from durable materials like Dyneema, Spectra, metal mesh, and Kevlar®, all of which are not only protective, but also lightweight and flexible. You can even choose from options with different thicknesses and ANSI protection levels depending on the cutlery and equipment your staff is handling. To learn more about the differences between these products, explore the tabs above and the filters on the left side of the page.
By providing cut resistant gloves for your staff, you'll increase safety in the workplace. These products reduce the amount of injuries caused by slices, cuts, abrasions, and punctures, giving wearers more confidence when handling knives or sharp equipment. Fewer hand injuries will also lessen the risk of contaminating food with bodily fluids. For other great items for your kitchen, check out our knife sharpeners, knife blade covers, and cutting boards for even more safety precautions. If you're wondering where to buy cut resistant gloves, we have a large selection of cut resistant gloves for sale at the lowest prices.