30" Fryer Clean Out Rod with Handle
Recommended Similar Item

Durable comfort handle with hole for easy storage
Commercial stainless steel construction
Clears fryer drain lines
30" length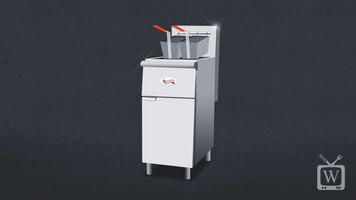 Avantco How to Clean a Deep Fryer
As oil prices continue to rise, its important to take advantage of products that allow you to use less oil. Using fry powder filter aids and oil stabilizers can cut down on the amount of oil used, ultimately saving you time and money. But, if you don't properly clean your fryer beforehand, its like throwing all that money down the drain. You should always start your fryer oil stabilizer regimen with a clean fryer that's been boiled out to make sure all dirt and debris has been removed. Otherwise, you may have proteins, polar contaminants, and other matter that will start to contaminate the new oil immediately when added. That will break down the oil quicker, leaving you to change the oil more frequently and ultimately costing you more time and money. This video will show you the proper steps to ensure that your fryer is ready for use, by using Noble Chemical Tempest deep fat fryer cleaner, a high temp fryer brush, and a fryer clean out rod. I will also show you how to safely discard your used oil once you have determined it is no longer usable. Don't forget to check out our video on Miroil's fryer oil test strips to help take the guesswork out of when to change or filter your oil. Noble Chemical Tempest deep fat fryer cleaner is easy to use and thoroughly eliminates all encrusted grease and grime - just follow these simple steps. Drain all grease from the fryer and safely discard grease using an oil caddy and an approved oil discard container. Use the fryer clean out rod to clean any remaining debris out of the drain line. Rinse the fryer with hot water to remove excess, undrained fat. For a fryer holding approximately 30 lb. of fats or oils, fill with cool water within 3 to 4" of the top. Add 8 oz. of Tempest to the cold water. Use more of less depending on the size of the fryer. Boil slowly for 20 minutes. After termination of boiling, allow the fryer to drain slowly and use a long handled, heavy-duty brush to clean the sides, top, heating elements, and other parts of the fryer. Then, rinse thoroughly to remove all residue. For future cleaning operations, less boiling time is required to perform this cleaning operation and the amount of Tempest used may be cut in half. Once your fryer is clean and dry, you are now ready to add your new oil. Don't forget to add Miroil's fry powder and oil stabilizer to ensure a longer lifespan for your oil. Starting a regular fryer oil regimen will ultimately save you time and money. Thanks for watching, and be sure to check out all of the oil filtration equipment and accessories on our website.
A fryer oil regimen is very important when it comes to extending the working life of both your fryer and your oil. If you're unsure how to properly clean and maintain your fryer, watch this informative video.
Specs
Length
30 Inches
Type
Clean Out Rods
Details
Use this handy 30" fryer clean out rod to clear your hard-to-reach fryer drains! Over time, your fryer drains can become clogged with food particles and hardened fryer oil, impacting the amount of time it takes to drain and filter your oil. You can simplify this difficult task by using this stainless steel rod. Simply place the straight portion into the blocked drain line to break up hardened fryer oil. Featuring an angled shape with a black handle, this rod is designed so that you can reach your clogged drain while still maintaining a firm grip.

Overall Dimensions:
Length: 30"
Customer Reviews
People Talk About:

fryer

cleaning

great

clean

tool

fryers

handle

Helps

long

oil

30" Fryer Rod is very helpful when cleaning out junk that seeps into small crevices. this is worth the money. Highly Recommend this rod!

This made cleaning our fryers ten times easier and faster. They work great in the right areas that we cant reach. We use to make our own sticks until I found these

While it only has one task so it's fairly limited in it's use, you definitely need one if you have a deep fryer. It would be nice if the Avantco fryers came with one like other fryer brands do.

Works great for those stubborn big particles that fall to the bottom of the fryer and jam the outlet drain port. Easy to clean and very robust. Simple yet needed.

Cleaning the grease on your fryer daily is a critical part of serving good tasting food. A poker is essential to clean the food chunks out of the fryer drain. Makes employees jobs easier.

This clean out rod is great for all purpose cleaning of commercial fryers! The bristles are sturdy and will not flake off or fray to the point of no return. GREAT product!

Nice and firm, great to use to clean out any fryers. They seem to last but I've only used mine for a short time, holds up so far.

very necessary tool if you have a fryer! we use it to clear out the clogs when draining the fryer, but also we use it for cleaning the corners of the fryer. just wrap a towel around it.

You spent so much money on your equipment make sure it stays clean and running strong with this. You invested in it with money also invest in it with time!

If you have a fryer... You have to have one of these to push crud out of them. I really do like this tool and it makes fryer cleaner a cinch!

This product is great!It makes clean up of fryers a lot quicker and easier! We are very glad that we purchased it and would recommend it to others!

This is an absolute must for cleaning your fryers. Helps to get into the hard to reach areas to move the excess debris out for filtering.. The length is good and cleans easy.

This rod really helps get the job done! I really like the rubber grip which helps a lot, especially when you are dealing with hot liquids.

If you have a fryer this is a tool you cannot live without! When cleaning the fryer all of the food particles that collect in the bottom of the fryer make is very difficult to empty the oil. This tool makes a clear path for the oil to come out freely without have to stick your hand in the oil.

Don't buy one of the more expensive fryer clean out rods. This one is solid and does a great job. The handle is sturdy and this one does everything you need it to do.

Works great to clean out dryers. Long enough to get into all the crevices. Very sturdy and price is great. i recommend this product to everyone

I really like that plastic handle on this 30 inch long fryer cleaning rod it fits really good in my fry master fryer makes it a lot more easier to use this then a flimsy clothes hangers that I used to use

I shouldn't have waited as long as I did to get the best fryer cleaning tool out there. This allows cleaning of your fryer when it's hot and pushes the sludge through without having to stick your hands down in there. It's a great labor saver.
Leave a review of this product!
If you've used this product, log in and leave a review to tell us and other customers what you thought about it.
Login or Register