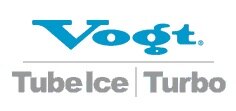 Vogt Ice Machine Parts and Accessories
Cool Your Drinks and Food with High-Quality Ice Machines from Vogt
In 1938, Vogt revolutionized the commercial industry by creating a machine that could automatically create sized ice. Previously, ice had to be made in large blocks and then cut down into useable sizes, but Vogt's tube-ice machine made the process simpler and more convenient for commercial businesses. Ice is a necessity in the foodservice industry, and they offer products that are ideal for bars, restaurants, and banquet halls. Read more
Today, Vogt has an extensive line of products that create ice in any size or style to suit any need. For example, they have ice machines that can make fragmented, cracked, crushed, and flake ice, so you can find the perfect option for your establishment. In addition to full-size appliances, we carry Vogt ice machine parts and accessories that you can use to maintain and repair your ice machines.

Vogt Ice Machine Mechanical Parts
Vogt ice machine mechanical parts include electrical components, fittings, gaskets, hardware, and valve parts to keep your cold storage equipment running.

Vogt Ice Machine Bin and Dispenser Adapter Kits
Use Vogt ice machine bin and dispenser adapter kits to rebuild broken and worn-out systems in your restaurant, bar, or upscale bistro's equipment.