Tulkoff Food Products
Tulkoff Food Products
Established over 80 years ago, Tulkoff Food Products Inc. began manufacturing and supplying full-flavored condiments to customers nationwide. You can purchase specialty sauces and ingredients that offer superior quality. Tulkoff's East Coast headquarters is located in Baltimore, MD and their West Coast division can be found in Pittsburg, CA. Read more
Tulkoff Food Products creates high-quality products like horseradishes and cocktail sauces. Use these products to top off a dish, marinate meat, or add in to a flavorful casserole. Tulkoff also participates in GFSi (Global Food Safety Initiative), which constantly raises the bar for improving food.
Tulkoff Horseradish
Choose bulk horseradish from Tulkoff Food Products. Tulkoff horseradish offers a full body of flavor great for dips and marinades.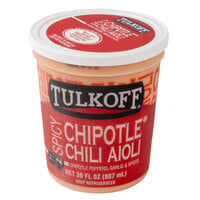 Tulkoff Mayonnaise
Tulkoff mayonnaise is great for any deli, sub shop, salad bar, and more. Choose bulk mayo from Tulkoff for all of your food prep needs.