SR Max Shoes
Prevent Accidents in Your Kitchen or Healthcare Facility by Using SR Max Non-Slip Shoes
SR Max started out in 1980 as the Saf-Gard Safety Shoe Company, a business dedicated to providing their customers with safe and slip resistant shoes for the workplace. In 2007 the company decided to rebrand and came up with the name SR Max, which stands for "Slip Resistance to the Max", referring to their shoes' non-slip soles. SR Max also stands out for their shoemobiles, which are mobile shoe stores that bring their wide selection of shoes directly to your business, allowing your employees to try on shoes in person and find the perfect option for them. Read more
SR Max work shoes are the perfect option for many different types of businesses, such as healthcare facilities and educational institutions. Their products are outfitted with non-slip soles, which help prevent falls and accidents and are an excellent feature for commercial kitchens. In addition to slip-resistance and safety in the workplace, SR Max work shoes are designed for comfort, ensuring that your feet will be comfortable through long shifts and periods of standing.
SR Max Work / Safety Shoes
SR Max work and safety shoes have a number of useful features for industrial settings, such as non-slip soles and water-resistant constructions.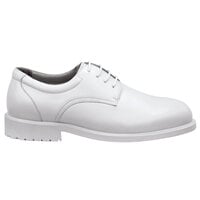 SR Max Dress Shoes
Provide an ideal complement to the uniform at your fine dining establishment or hotel by outfitting your staff with SR Max dress shoes.