Smucker's Products
by  J.M. Smucker Co. Away From Home
Over 100 Years of Delicious, Outstanding Fruit Products
Smucker's is one of the most famous names in fruit spreads and other products throughout the United States and beyond. Their dedication to quality and flavor has made them a household name that is equally at home in diners, cafeterias, restaurants, and virtually every other foodservice business. Read more
Smucker's extensive line of restaurant supplies includes spreads and ingredients like peanut butter that can help bring out the best possible flavor from your most frequently-ordered dishes. These extra condiments are some of the best and most delicious in the industry, giving you the best results for your purchase.
Smucker's Smucker's Condiment Portion Control Packs
Smucker's condiment portion control packs are ideal for diners and other establishments where customers can order their foods before adding their own spreads.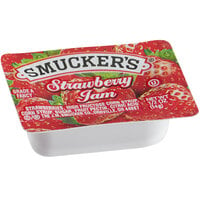 Smucker's Fruit Jellies, Marmalades, and Preserves
Smucker's fruit jellies, marmalades, and preserves provide your guests with the perfect topping for their toast, pancakes, or biscuits.