Rankin-Delux Equipment Parts
Get Your Equipment Up and Running with Rankin-Delux Parts and Accessories
Rankin-Delux was founded in 1965 by Bill Rankin, who believed that he could design a better and more efficient rock broiler. Today, the company manufactures over 500 different models of cooking equipment that range from broilers to stockpot ranges. Throughout their 50-year history, Rankin-Delux has stayed true to their core values of providing high-quality equipment that is reliable and long lasting. Read more
Rankin-Delux parts and accessories are ideal options for commercial kitchens because they allow you to get your equipment up and running quickly and easily. Additionally, all of their components are made with high-quality materials, allowing them to lengthen the lifespan of your equipment. We carry Rankin-Delux parts and accessories for a variety of appliances, like broilers, griddles, and ranges, allowing you to find replacement parts for many different types of equipment.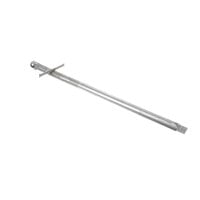 Rankin-Delux Broiler, Salamander, and Cheesemelter Parts and Accessories
Replace worn out thermostats, knobs, and ignition controls on your broiler with Rankin-Delux salamander and broiler parts and accessories.
Rankin-Delux Range Parts and Accessories
Ranges are important in commercial kitchens, so make sure that yours is running at peak efficiency by using Rankin-Delux parts and accessories.