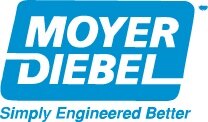 Moyer Diebel Commercial Dishwasher Parts
Repair Your Commercial Dishwasher with Parts from Moyer Diebel
Moyer Diebel was founded in Winston-Salem, NC more than 50 years ago. Their years of experience have led them to become leaders in the glasswashing and dishwashing industry. Because of their success, Moyer Diebel products can be found in a wide variety of settings, including restaurants, schools, casinos, hotels, and more. Read more
Because Moyer Diebel specializes in warewashing equipment, they also produce all the parts and accessories necessary to repair and maintain the commercial unit in your dish room. Items like electrical components, hose clamps, and more are all important for a working dishwasher. So by keeping extra Moyer Diebel parts on hand, you can always stay prepared to make any repairs to your warewashing equipment.

Moyer Diebel Bearings and Bushings
If your dishwasher needs new bearings or bushings, keep in mind that Moyer Diebel specializes in producing parts for commercial warewashing equipment.

Moyer Diebel Washers, Spacers, and Grommets
To prevent leaks and corrosion of your nuts and bolts, use Moyer Diebel washers, spacers, and grommets.