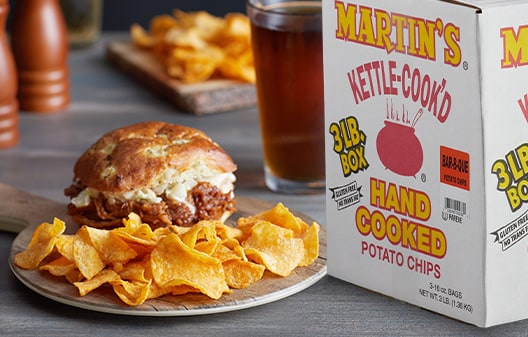 Shop Martin's Bulk Snacks
Martin's Bulk Snacks
Satisfy side orders and snack cravings with the delicious taste of Martin's bulk snacks.
Shop Martin's Single-Serve Snacks
Shop All Martin's Snacks
All Martin's Snacks
With so many bold flavors, shop all Martin's snacks to diversify offerings and satisfy cravings.
Shop All Categories
Choose Martin's Potato Chips and Snacks to Offer Your Customers Salty and Crunchy Foods
Martin's, a snack food manufacturer based in south-central Pennsylvania, started out in the Martin family home. Since then, they have grown and now distribute a variety of snack foods all over the east coast of the United States. Throughout the years, Martin's has remained dedicated to offering high-quality and delicious snack foods, as well as supporting their local community with jobs and outreach. Stock your movie theater, convenience store, grocery, or gas station with delicious Martin's potato chips and snacks. While Martin's began by creating plain potato chips, they now offer a variety of popular flavors, such as barbecue and salt and vinegar. Additionally, Martin's potato chips and snacks are kettle cooked, which gives them an extra-crunchy texture to entice customers.