Wholesale Lorna Doone Cookie Products
by  Mondelez
Add a Tasty Snack to Your Concession Stand with Wholesale Lorna Doone Cookie Products
Part of the Mondelez International family, Lorna Doone is a Nabisco brand known for its golden shortbread cookies. The Lorna Doone square-shaped cookie was first introduced in 1912 and has since become a crowd-favorite snack around the globe. Their rich and buttery shortbread cookies are an excellent addition to supermarket check-out lines, concession stands, and airline food carts. Read more
Stock up on wholesale Lorna Doone cookies to provide your guests with a delicious snack for their breakfast or afternoon tea. These golden cookies melt in your mouth and pair perfectly with a cup of tea, milk, or coffee. They are available in bite-sized or full-sized individually wrapped packages that make them simple to sell and distribute.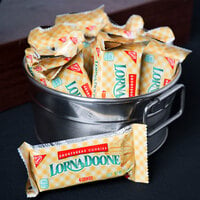 Lorna Doone Cookies
Lorna Doone cookies are a buttery and comforting snack, making them perfect for continental breakfast menus.
Lorna Doone Individually Wrapped Snacks
Allow your customer to take their cookies to go by stocking up on Lorna Doone individually wrapped snacks.