Linden Sweden, Inc. Products
Linden Sweden, Inc. Products Combine Functionality With Great Design
In 1932, Filip Linden started making pastry brushes out of his garage. His mission was to create quality tools that showed fine craftsmanship and elegance as well as being highly functional. This concept continued to be a cornerstone of the Linden Sweden company and played an important part in the creation of many other kitchen products. Read more
Linden Sweden, Inc. products include items that make kitchen tasks easier, like high temperature utensils and garnishing tools. Useful for chefs in commercial foodservice kitchens, Linden Sweden tools combine sleek design with efficiency. The Linden Sweden brand is now owned by the Dalo Linden group, a global company with manufacturing facilities in the U.S., Sweden, and Russia.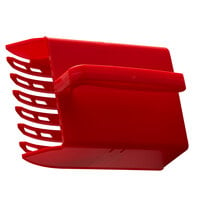 Linden Sweden Fruit Pickers
Use Linden Sweden fruit pickers to safely pluck berries from branches without coming into contact with thorns.
Linden Sweden Piping Tips, Pastry Bags, and Accessories
Linden Sweden pastry bag clips are designed to create an air tight seal on your pastry bags, keeping the product fresh.