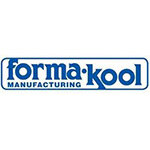 Forma-Kool Refrigeration Parts
Forma-Kool Refrigeration Parts Increase the Efficiency of Your Refrigeration Equipment
Forma-Kool refrigeration parts are designed to repair damaged components on your refrigeration equipment. Known for providing refrigeration solutions, Forma-Kool Manufacturing is headquartered in Chesterfield, Michigan. Their line of parts and hardware help to stop leaks and increase the efficiency of your walk-in and reach-in units. Read more
Forma-Kool has the ability to create custom manufactured sheet metal and completely refurbish old refrigeration units. They design replacement doors, gaskets, handles, and other hardware for refrigeration in restaurants, institutions, and schools. Dedicated to customer service, Forma-Kool provides high-quality solutions and repairs for refrigeration equipment.

Forma-Kool Replacement Refrigeration Gaskets
Use Forma-Kool gaskets to replace the worn gaskets on your refrigeration equipment and prevent leaks.

Forma-Kool Walk-in Refrigeration Parts and Accessories
Keep your refrigeration equipment in good repair by using Forma-Kool walk-in refrigeration parts and accessories to replace damaged components.