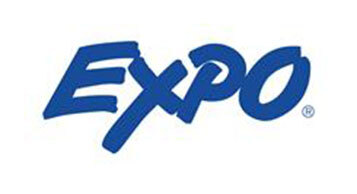 Expo Writing Supplies
Expo Dry-Erase Markers Are the Ideal Tools for Your Whiteboard Presentations
Expo was founded in 1965, and today, they serve as a leading manufacturer of dry-erase markers for school and office environments. Their products are available in a variety of sizes and styles, including assorted colors or classic black. Additionally, you can purchase Expo markers in different quantities, depending on your needs. Read more
Whether you're looking for a dry-erase marker with a chisel, fine point, or even retractable tip, there's an Expo maker to suit your application. Dry-erase markers are excellent tools for presentations or brainstorming sessions where you want to provide a brief visual aid. Best of all, Expo dry-erase markers make it easy to change the notes on your white board as your ideas develop. For more great office product brands, check out: Mayline, Fellowes, Tombow, At-A-Glance, and Swingline.
Expo Display Board Accessories
Use versatile Expo display board accessories to keep your office or classroom's dry erase surfaces clean and ready to use.
Expo Markers, Highlighters, and Chalk
Expo markers and highlighters include both dry and wet erase products that are available in a variety of tip styles to meet your needs.