Shop EcoChoice Paper Take-Out Boxes
EcoChoice Paper Take-Out Boxes
Allow customers to take their food on the go while reducing your carbon footprint by providing them with eco-friendly paper take-out boxes.
Shop EcoChoice Paper Hot Cups and Lids
Shop EcoChoice Paper Dinnerware
EcoChoice Paper Dinnerware
Stock up on disposable dinnerware that is less harmful to the environment by choosing EcoChoice paper dinnerware like their plates and platters.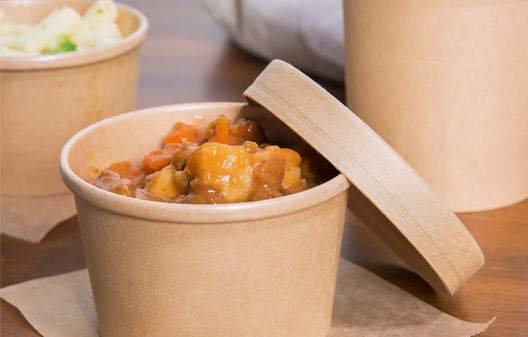 Shop EcoChoice Paper Soup Cups and Bowls
EcoChoice Paper Soup Cups and Bowls
Serve delicious stews and soups in these eco-friendly paper soup cups and bowls. They feature a heat-resistant barrier to withstand high temperatures.
Shop EcoChoice Plastic Cutlery / Utensils
EcoChoice Plastic Cutlery / Utensils
Add EcoChoice plastic utensils to your cafe for a disposable option. They are made from renewable resources to minimize their impact on the environment.
Shop EcoChoice Foam and Pulp School Trays
EcoChoice Foam and Pulp School Trays
Make it simple for customers to carry their order from the food line to their table by providing these EcoChoice multi-compartment trays to your food hall.
Shop All Categories
Economical and Environmentally Friendly Restaurant Supplies
As a provider of affordably-priced, environmentally conscious products, EcoChoice is the best option for food service businesses that want to keep the earth healthy on a budget. Boasting a reputation for unbeatable prices, EcoChoice offers biodegradable and compostable restaurant supplies that will appeal to your wallet as much as your customers.Whether you need take-out containers or disposable supplies for a catered event, you can find what you need through EcoChoice. These products combine the durability of competitive products with eco-friendly materials and designs, so any green business can use them for service.