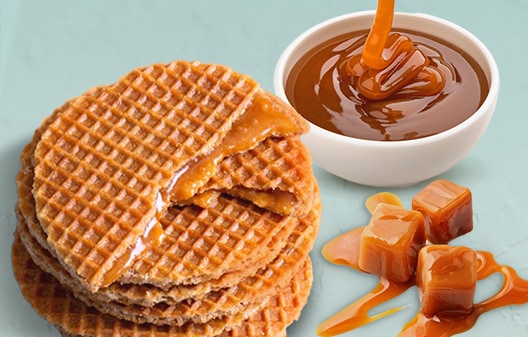 Shop Caramel
Caramel
Daelmans soft, toasted waffles are filled with gooey, mouthwatering caramel for a decadent treat.
Shop Chocolate
Chocolate
Chocolate stroopwafels will delight your customers with a delectable combo of chocolate and caramel.
Shop Honey
Honey
Try mouthwatering honey caramel syrup squeezed in between two thin layers of freshly baked dough.
Shop Daelmans Cookies
Daelmans Cookies
Delight guests with an iconic Dutch snack with Daelmans stroopwafels offered in a variety of formats and available in caramel, honey, and chocolate flavors.
Shop Daelmans Individually Wrapped Snacks
Shop All Categories
Bring the Taste of Holland to Your Shop with Daelmans Stroopwafels
Hermanus Daelmans first opened their little family bakery in 1904, setting the standard for baking excellence in Holland. Since then, the bakery has grown and changed quite a bit over the years, but the time-honored recipe, commitment to quality ingredients, and tradition of dedicated craftsmanship that he founded the business on have all remained the same. What started as a bakery in the small town of Vlijmen in the southern Netherlands to shipping to millions worldwide, Daelman's has provided delicious stroopwafels to hungry patrons everywhere.Daelman's cookies, pastries, and desserts are beloved by consumers worldwide. Their stroopwafels are legendary and come in many different flavors and sizes so you can offer an array of different options for your guests! Present the sweet taste of stroopwafels straight from The Netherlands with Daelman's.