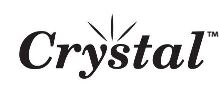 Choice Crystal Disposable Dinnerware
Get Elegant Disposable Dinnerware with Choice Crystal
Choice Crystal is the perfect option for catering companies, banquet facilities, and event coordinators that are looking for a sophisticated disposable dinnerware option. These products are made with crystal clear plastic that's elegantly decorated to resemble high-end glass tableware. Best of all, all Choice Crystal items are disposable, so you can simply throw them away after your event for quick and easy cleanup. Read more
Available in different styles, including bowls and plates, Choice Crystal restaurant supplies can be used to serve any part of your meal. They're sure to add an air of sophistication without the hassle of dealing with traditional, fragile glass options. Versatile and affordable, these items are ideal for anything from a poolside brunch to an outdoor picnic.

Choice Crystal Plastic Disposable Plates
Choice Crystal plastic disposable plates come in a variety of sizes, so you can present the appetizers, salads, and entrees at your event with elegance and style.

Choice Crystal Disposable Plastic Bowls
Choice Crystal disposable plastic bowls are perfect for serving breakfast foods, soups, fruits, and desserts to guests at your event or casual outdoor meal service.