Caddy Corporation Equipment Replacement Parts
Caddy Corporation's Inventory of Equipment and Parts Has Something for Every Business
The Caddy Corporation was founded in 1945 and is a leading manufacturer of high-end cooking ventilation systems. Additionally, they offer tray conveyor systems that are perfect for cafeterias and large buffets. If you need tray delivery trucks, Caddy also offers these products for hospitals and retirement communities. Read more
If your Caddy conveyor system needs replacement parts, you'll find a variety of belts, chains, and accessories. Additionally, they offer hot side control knobs, dials, and thermostats to keep your equipment heating properly. From restaurants and buffets to hospitals and retirement communities, Caddy has the equipment and parts your establishment needs.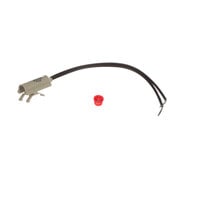 Caddy Round Signal Lights
Caddy round signal lights are designed for hot food wells and electric steam tables and help you monitor your equipment for power failure.
Caddy Rotary Switches
Purchase affordable and high-quality Caddy rotary switches to replace broken and worn-out parts in your restaurant's hot side equipment and appliances.