Bar Maid Products & Accessories
America's Leading Manufacturer of Electric Glass Wash Systems
Bar Maid began over 50 years ago with the goal to make products that would make the working day easier on their customers. With most of their products manufactured right here in the United States, they've expanded their company several times over since then with the same objective in mind. Read more
Bar Maid's assortment of products covers everything from cleaning items to food preparation appliances. But regardless of what line of products you shop, all of them are made to the same high standards of quality, power, and durability that has made Bar Maid a trusted name to restaurateurs.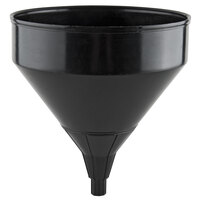 Bar Maid Funnels
Bar Maid funnels are some of the easiest to use and most durable in the business. These funnels are colored black to fit in with any color appliances or kitchen, and they all have a simple design.
Bar Maid Manual and Electric Glass Washers
Bar Maid manual and electric glass washers quickly scrub, clean, and sanitize your glassware when your business is operating at peak hours.