Bally Block Company Products
Commercial Butcher Blocks, Chopping Blocks, and Cutting Boards
Bally Block, also known as Michigan Maple Block Company, is the largest and oldest manufacturer of butcher block wood in the United States. They've been in business for over 125 years, solidifying them as one of the most dedicated and longest-lived restaurant suppliers in the industry. Their quality wooden cutting boards are used in foodservice and hospitality businesses around the country, so you can rest assured they're a brand to trust. Read more
Bally Block produces cutting boards that can be used in any commercial kitchen setting. They come in a variety of different thicknesses and sizes to ensure that you can find one that will accommodate larger foods, but compact enough that it won't take up other valuable space in the back of the house.
Bally Block Cutting Board Racks and Accessories
Bally Block cutting board racks and accessories include some of the best products for keeping your cutting board in premium condition by preventing routine wear.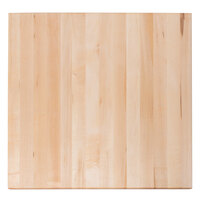 Bally Block Cutting Boards
Use high-quality Bally Block cutting boards to protect your countertops from damage and stains. These all-wood products can easily stand up to daily use.