Bakon USA Food Equipment Parts
Maintain Your Baking and Cooking Products with Bakon USA Food Equipment Parts
For over 25 years, Bakon USA has been a leading provider for restaurants and bakeries. Initially based in the Netherlands, a US branch formed in 1991 to serve the needs of North American customers. Bakon USA food equipment parts and machines are made for specialized applications in the bakery, pastry, and general foodservice industry. Read more
From spraying machines to pumps and tanks, Bakon USA creates items to ease your baking and cooking procedures. To maintain your machines, Bakon carries a large selection of Bakon USA equipment parts and accessories for your condiment dispensers, blast freezing machines, and conditioning units. With a Bakon USA product, you can optimize quality and efficiency in your kitchen.
Bakon Condiment Pump Parts
Ensure that your guests can fix up meals to their liking by maintaining your dispensers with condiment dispenser pump parts.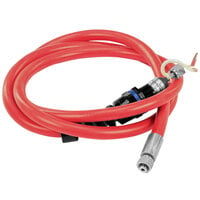 Bakon Hot Water / Steam Hoses and Connectors
Maintain your equipment that relies on hot water, such as dishwashers or faucets, with steam hoses and connectors.