Urnex 12-ESP12-20 20 oz. Cafiza Espresso Machine Cleaning Powder
Concentrated formula eliminates residue in group heads, valves, and machine lines
Integral to any daily back flush regimen
Foam and solubility balanced for optimal rinsing
Use 1 tsp. / 32 oz. water for soaking, or 1 tsp. per gallon of water for brewers
Listed by OMRI for use in organic production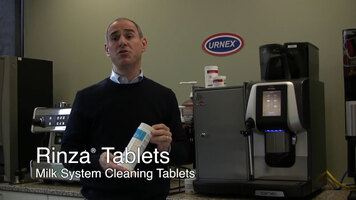 Urnex: How to Clean an Espresso Machine Using Cafiza and Rinza
Hi, I'm Josh Dick, president of Urnex products. Today I'm going to talk to you about how to clean a fully automatic espresso machine. There are two quick and easy parts to clean in this machine today, first you have to clean the coffee brewing chamber, and second, you'll have to clean the milk system. First, we will clean the coffee brewing unit. For this, we'll use a Cafiza tablet. You're simply going to insert one Cafiza cleaning tablet into the tablet delivery chamber on the machine. Each machine has one on top. Cleaning tablets come in specific sizes and shapes, depending on the machine and its specifications. This machine uses a 1.2 gram tablet, so that's what I've just used. After you've placed the Cafiza tablet down the chute, press clean and the machine does the rest. Now we'll clean the milk system. For this, use Rinza, either in tablet or liquid form. I'll show you how to use both. Let's use the Rinza liquid first. To fill the built-in measuring cup in the bottle, loosen the cap and squeeze the bottle. The Rinza solution will fill up to the perfect dosage. We recommend that you use 30 mL of Rinza milk frother per 500 mL of cold water and mix into a solution. Now we have our solution. Each machine calls for a specific amount of total dilution to be made, so check your instruction manual. From here, we're going to insert the section tube into the solution. Now, we'll run the entire solution through the milk frother system following the machine manufacturer's maintenance and cleaning instructions, which might be on the screen. To rinse the system, we're going to repeat all the same steps using clean water. Some machines do this for you, for those machines that don't have an automatic rinse cycle, insert the section tube into clean water and run that through the frother system to rinse and flush away all the remaining solution. The Rinza tablet is used in basically the same way as the liquid. All you have to do is dissolve the Rinza tablet in the dilution of water noted on the package to create the proper cleaning solution. Now, you'll have a solution to use, just as you did for the liquid. Of course, after cleaning, rinse with clean water just like before. You have now successfully cleaned your fully automatic espresso machine and are ready to make great tasting coffee. For more information about these products and others, visit us on the web at www.urnex.com.
Extend the life of your coffee shop's espresso machine by cleaning it regularly with Urnex's Cafiza and Rinza cleaning solutions! The solution will clear the inner components of any residue and keep your fresh coffee tasting great.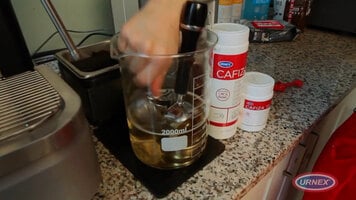 Urnex: How to Clean an Espresso Machine Using Cafiza
Hi, I'm Jefferson, I've been a barista at Coffee Labs Roasters in Tarrytown for 7 years. Today I'm going to be showing you how to clean your espresso machine using Urnex products. First, replace the pour filter basket with a blind filter. Add about 3 grams of Cafiza espresso machine cleaning powder into the blind filter basket, or, add one Cafiza tablet into the blind filter basket, and return the pour filter back to the group head. Press and hold the wash button to active the clean cycle, also known as back flushing. Select which group to clean, then press start to begin. The cleaning process will continue on its own. It is a substantial cleaning cycle that takes place automatically, with the machine pumping the cleaning solution back through the machine every few seconds. To clear the espresso machine manually, simply run the espresso machine 10 seconds on, and 10 seconds off 5 times to pump the cleaning solution through the machine. To rinse, repeat the same steps of the cleaning cycle without any cleaning solution to rinse the machine with water. In addition to back flushing, soak any spare parts in a Cafiza solution. Dissolve 3 grams of Cafiza powder or 1 Cafiza tablet in water. We'll quickly remove the shower screen. It's hot, so be safe and use a bar towel. Soak for 15-30 minutes, then rinse thoroughly with water. It is important to clean the steam wand daily to prevent bacteria and protein build-up from the milk. Use 30 ml of Rinza and 500 ml of water. Soak for 15-30 minutes, and then rinse thoroughly with water. Your espresso machine is now cleaned and ready to brew great tasting coffee again. It is important to backflush daily and sometimes even twice per day depending on frequency of use. Backflushing with Cafiza will eliminate coffee residue in group heads and machine lines. For more information, please visit www.urnex.com.
Extend the life of your coffee shop's espresso machines with Urnex Cafiza! By inserting 3 grams of Cafiza cleaner into your machine, you'll clear the inner components of any residue and keep your fresh coffee tasting great.
Urnex 12-ESP12-20 Specs
Chemical Form
Powder
Type
Espresso Equipment Cleaners
Urnex 12-ESP12-20 Details
Designed especially for use with espresso machines, Urnex 12-ESP12-20 20 oz. Cafiza espresso machine cleaning powder offers a concentrated formula that eliminates residue in group heads, valves, and machine lines for a more efficient machine and better tasting product. Integral to any daily back flush cleaning regimen, this product is simple to use.

Foam and solubility balanced for optimal rinsing, this espresso cleaner provides the right amount of suds and yet rinses away completely. It is listed by OMRI for use in organic production so you can use it in your eco-friendly business without worrying about losing organic status.

Instructions:
For back flush cleaning, insert a blind filter in a portafilter and add up to 1/2 tsp. of Cafiza powder. Insert the portafilter into the group head. Activate the brew cycle for ten seconds, stop for 10 seconds, and repeat this step 5 times. Remove the portafilter and activate the brew cycle. Rinse portafilter in the stream of water from the group head. Stop the cycle. Re-insert the portafilter and then start and stop the brew cycle in 10 second intervals, 5 times. Make and discard a cup of espresso to ensure no residue remains.

For soaking, place filters and metal parts of portafilters in a solution of 1 tsp. of Cafiza powder per 32 oz. of hot water. Soak for 30 minutes. Rinse clean with hot water.
NSF Listed

This item meets the standards imposed by NSF International, which focuses on public safety, health, and the environment.

Made in America

This item was made in the United States of America.
Resources and Downloads for
Urnex 12-ESP12-20
Specsheet
SDS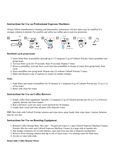 Instructions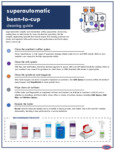 Instructions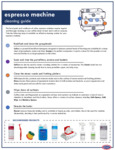 Instructions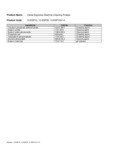 Ingredients
A PDF viewer is required to view this product's information. Download Adobe Acrobat software
Customer Reviews
People Talk About:

espresso

machine

coffee

clean

cleaning

great

powder

cafiza

cleaner

price

This cleaner works great for my espresso machine. It's great for back flush my machine and it's great to clean up the stand off my portafilter. Just remember, for soaking, you need to use hot water, the cold water doesn't work. The price of the bottle it's so reasonable on this website, it's a lot cheaper than anywhere else. If just for home use, one bottle will last for a long time.

I can't say enough about this product. We use it to clean the espresso machine and actually use it to clean other things around the shop and I'm surprised every time how great it does!

Cafiza is such a standard product for any coffee shop. It is used for cleaning the espresso machine, as well as removing grime from other materials such as stainless steel, glass, and plastic. This product will clean everything!

Best cleaning powder we have found. We use a little bit each time we clean our coffee machine so the product lasts for a few months.

The product is of a very good quality and safe. The directions on the package explain clearly how to use it and it is very effective in helping you to keep your coffee machine clean (=better espresso and less maintenance)

This is a great product! It cleans the espresso machine wonderfully. I find it most effective when used for soaking stain parts of the machine to clean it.

A miracle! I recommend this brand and all their products. Does wonders at removing coffee stains from glass, mugs etc. I highly recommended it! Great product

We absolutely love this product! We recommend this product to other people. It really does an amazing job cleaning the machine and we are very impressed.

This cleaning powder works wonders! We use this every single day to clean and break down our machine and never have any problems or complaints!

I've shopped across all sites that sell this stuff. You will not find a cheaper price than this. and hands down the one and only espresso machine cleaning powder I've seen at any coffee shop I've been to

This is the BEST cleaner for anything that coffee touches. And a little bit goes a long way! We use about 1/3 of what the instructions recommend and it does the job! Besides airpots, we soak our plastic cold brew containers in a Cafiza solution of 1 tsp to an ENTIRE sink basin and the coffee stains come off immediately. This is also the best price we've found.

Its a great cleaner, not just for our espresso machine, but anything that is stainless in our kitchen where regular soap & water can't do the job.

Best cleaning agent out there. This is also a great price. Works well to clean espresso machines, coffee pumps, and tea jugs. We have also used to clean other items that were heavily stained.

This is a necessity if you own an espresso machine. This stuff eats through coffee stains like butter. We use it everyday to clean our espresso machine.

This powder is excellent in cleaning my La Marzocco espresso machine. It cleans well and does not leave a slimy feeling afterwards as I have found other espresso cleaners do. It is also handy for cleaning coffee airpots.

We used cafiza packets in the past, which was great for using the correct amount. As long as you're measuring your scoops, the large bottle lasts a while, and is much more efficient.

great looking product. this was exactly what I was looking for. cleaning out espresso machines at the end of the shift. I would definitely buy again. You will be glad you purchased this.

We have used this product for years to backwash our espresso machine. It's a necessity for sure. We also like to use it to deep clean our coffee pots - we just fill them with hot water, sprinkle a little Cafiza in, and let it soak overnight. Multifunctional!

Great product, this is the cheapest place I've found it so far. I buy it in bulk because I will go through it. It also works really well if you have pot or pans with stains on them, just soak or scrub it with cafiza.

You cannot find this powder cheaper anywhere else. It does a fantastic job of cleaning our espresso machine. We order these all the time for our shop!
Leave a review of this product!
If you've used this product, log in and leave a review to tell us and other customers what you thought about it.
Login or Register