ServIt Heavy-Duty Insulated Black Nylon Soft-Sided Food Delivery Bag / Pan Carrier, 22" x 13" x 16"
Easily wipes clean
Hardboard bottom offers added stability; reflective stripes ensure safety
Additional fabric at the flap for superior temperature retention
Made of durable nylon with heavy stitching and reinforced straps
Lightweight and folds down for storage
Quality Rating:

Trust your catering to this ServIt 22" x 13" x 16" black soft-sided heavy-duty nylon insulated full size food delivery bag!
This premium ServIt 22" x 13" x 16" black soft-sided heavy-duty nylon insulated full size food delivery bag is designed for everyday catering and food delivery with a durable nylon exterior and heavy stitching to prevent rips and tears. The interior and exterior are both water resistant and easy to clean, as is the interior pocket in the lid that gives you room to store a heating or cooling pack on the go.
"Great product! These bags are durable and easy for all of our delivery drivers to use. We're almost always able to fit all of their deliveries into one bag, but when we can't, the carrying handles make it easy for them to take two bags at once. They're also easy to clean, which is…"
Read More Reviews
Reinforced Straps
Heavy-duty, reinforced straps promote safe, comfortable carrying from cart to vehicle and back again.
Hardboard Bottom
A hardboard bottom ensures stability while transporting (6) 2 1/2" deep or (5) 3" deep full size food pans.
Pockets
Two Velcro®-closure, non-insulated pockets on either side offer more storage for beverages, cutlery, condiments, and utensils.
Maintains Temperature
This delivery bag features 2" thick poly-batting insulation on all sides of the bag to keep foods at the proper temperature during transport. It even helps keep items 10% warmer during the first hour of use than other similar style bags! Additionally, a pocket in the bag holds a heating element or cooling packs for extended temperature control. Extra fabric at the flap holds heat in while Velcro® strips ensure quick opening and closing of the bag.
ID Window
For your convenience, a transparent ID window on the exterior of the bag allows your staff to store menus, coupons, and business cards.
Reflective Stripes
Reflective stripes give your staff the safety they deserve when on the road, making this bag the ideal option for day or night delivery.
Convenient Lid Pocket
The lid on this bag features an added pocket designed for use with hot / cold packs. This feature ensures your food stays the appropriate temperature during transport and throughout your event. While this lid works to keep your food or drinks ready to serve, the transparent ID window serves as the perfect place to store menus, coupons, and business cards in an easily-accessible location.
Customer Q&A Ask a Question
The item that I received has different dimensions than the ones that are listed. Why?
Due to the universal nature of this product, some of the dimensions may vary slightly.
What types of items will fit in this insulated food delivery bag?
Here are some examples of what you could fit into this insulated food delivery bag:
- (2) 18" deli trays with high dome lid
- (3) 16" deli trays with high dome lid
- (6) 12" deli trays with high dome lid
- (2) full size 6" deep steam table pans
- (3) full size 4" deep steam table pans
- (5) full size 3" deep steam table pans
- (6) full size 2 1/2" deep steam table pans
- (2) 8-18 qt. square containers
- (4) 6 qt. square containers
- (6) 4 qt. square containers
- (3) 9" 2-3 layer cake containers
- (2) 1/4 size 2-3 layer sheet cakes
- (16) 32 oz. deli containers
- (6) 9" x 9" x 3" foam takeout containers
- (24) 6" x 6" x 3" foam takeout containers
- (12) 10" x 5 1/2" x 3" foam hoagie takeout containers
- (2) 160 oz. coffee to go boxes
- (2) 12-18 qt. round containers
- (6) 4-8 qt. round containers
- (18) 2 qt. round containers
What Fits Inside a ServIt 22" x 13" x 16" Food Delivery Bag?
Learn what your ServIt food delivery bag can hold! Its versatile design will allow you to carry and deliver a variety of items.
ServIt Delivery Bags
ServIt makes delivering take-out orders, pizzas, and catered meals a cinch! Designed to be easy to load, easy to carry, and easy to clean after use, these bags are ideal for a variety of food service operations. Check out this video for more information.
Expertly transport and deliver (4) 9" layer cakes, 24 small takeout containers, or (3) 16" veggie trays with the ServIt 22" x 13" x 16" bag!
Thick insulation on the ServIt delivery bags makes sure your food arrives at just the right temperature. Made in a variety of sizes, your take-out food and containers are sure to fit in one of these delivery bags. If you are delivering pizza, we have bags that fit 1-3 boxes all the way up to bags for 10-13 pizza boxes. Or, if you're catering an event we have bags that can fit up to 5 or 6 full sized food pans. For long delivery runs, we offer bags that have extra fabric at the opening flap to help hold in heat. For additional temperature control, choose a bag with an extra pocket inside. This pocket can hold a heating element or a cooling pack for an extended holding time. Choose from red or black bags with a reflective stripe to keep your staff safe while on delivery runs, and the reinforced straps help make sure your food remains safe while being delivered. As a bonus, the bags have a designated ID window for quick access while on the go. These delivery bags are conveniently easy to clean, both inside and out. Simply wipe the smooth surface with a damp towel, and you are ready to go! They are even water resistant to keep your food safe from the elements during transport. These delivery bags are made of strong nylon to hold everything you need. Many of them feature insulated pockets to hold two 2 liter bottles of soda. You can even choose a bag with a hardboard bottom for added support for your heavy loads. The hardboard bottom can double as a divider too! No matter what you need to deliver, these bags are up for the task. Some of the delivery bags also feature brass grommets. These allow moisture from steam and condensation to escape, preventing soggy food. So your food will stay both hot and fresh while out for delivery. We have the option of either top or end load style bags. End load is ideal for pizza boxes and other large, flat cargo that easily stacks. Top load bags are better for fitting food pans and take out containers. No matter what kind of food you need to deliver, our ServIt delivery bags are the reliable choice.
Compare to Other Products
Overall Dimensions:
Length:

27 1/2"

Width:

17"

Height:

17"
Interior Dimensions:
Length:

22"

Width:

13"

Height:

16"
Resources and Downloads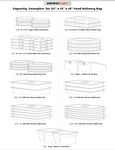 Capacity Examples
A PDF viewer is required to view this product's information. Download Adobe Acrobat software
Customer Reviews
People Talk About:

Bag

bags

food

great

Delivery

hours

insulated

hot

large

recommend

Not my favorite bag. Not good for constant use. Once it gets dirty, you just have to throw it out. But if you package food well, it should do the job

These work great. Some bags rip it easy but these dont. You can fit about a dozen togo containers in them and they also fit a full size catering pan. They are very well insulated too and easy to carry

I liked the style and it was nice to use however with carry cases it has to be washable/wipeable and dryable....this one was neither of those. Used for food transport and it retained moisture and food smells and then mold started growing also. Had to throw away.

Thank you for your feedback! We're sorry you did not prefer this product. For recommendations, please contact our Customer Solutions team.

The crew and I really like this nylon soft delivery bag. Easy to pack and carry large orders, as well as easy clean-up. Maintains proper holding temperature. Good investment, and easy on the pocket book.

now this is a big bag great for dry food got this Bag to drive for doordash its a great bag but don't spill anything in it the bag will act like a sponge it only water resistant for little drops of water a drink spilled in mine and it was all in the bag and on the floor of my car yes it leaks you will need to find out how to put a liner in it if you don't want it to leak. Will I get it again no I will not I would like one with a liner that I can take out and clean

The bags do hold the amount of pans listed overtime the stitching in the handles start to give out. Also they do not dry/wipe as clean as the description says. We cleaned the inside of the bag turned it inside out to dry and after two days it still had moisture by the end of the week mold was growing in the bag. The rep said that could happen with the bags, wish I would of known that before purchasing them.

Thank you for your feedback! We're sorry you did not prefer this product. For recommendations, please contact our Customer Solutions team.

I previously had a different pan carrier that essential wore out with multiple use and heavy abuse. I purchased two of these and couldn't be more thrilled with the construction of these bags. I love the velcro top closer and don't need to worry about zippers breaking or getting caught. There is plenty of room in the side pockets to store items like gloves, utensils... when transporting food for events. They easily fold up for storage and the pans fit so nice and snug in the bag. This was a really great purchase!

Very large and well constructed. The exterior pockets on the end are helpful as well. Only complaint is the lack of a shoulder strap, will potentially sew one on ourselves. Side handles would be a nice addition as well

great product. The brand is realiable. WE use these for carrying out our pie products. They are great with the added pocket for a cold bag.

Good sturdy and durable. Spills wipe clean. These are invaluable to our carry away items. Soft sided makes it easier to add more items and fill the bag up

This is great! Able to fit large items and quite certain if there is a large order. It also works well for the square styro containers, helping them to stay flat during travel. It is exactly what I needed and it has come in handy several times!

I wanted a container to hold a large Styrofoam cooler. This works perfectly, and gives extra insulation as well. We live in a small city, and It is very hot during the summer. We have to travel to another city to hit and other stores.

This is a great product for multiple orders or larger orders. This delivery/ catering bag is heavy duty and fully functional. The insulation keeps the food nice and warm or cold and the carrier straps are well manufactured. The side pockets are great for holding drinks or utensils. The only problem I have had was that the seams are tearing in the front clasp where the strip is. After 3 weeks of light to moderate use, it has performed well up until this point. Perhaps try double stitching the seams on the top where the clasps are would be an improvement to this design and perhaps also adding a shoulder strap, but other then that it is a great bag. Thank you.

Bag is great for keeping temp. would love to have boards in it to make the food stop spilling. works well with plates or pizza or cake boxes.

I love these delivery bags. They are super well insulated and very durable. The only thing that could be better is if they had some handles on either end.

One of the best investments I've ever made, works great at all of my catering events. Keeps my food warm for at least six hours

Best bag ever. Keep my foods warm while going to deliver to the customers. If you are looking for a bag warmer This is it. Highly recommend it A++++++

This bag performed better than expected, kept food warm for a two hour trip to a catering event. Recently, ordered a second bag for large orders. I highly recommend this product.

These bags are amazing, we use them to deliver fresh plant based meals to our clients every week and they absolutely do wonders for our business.

This bag was great. It was used to travel with hot food to a wedding and stau hot throughout the ceremony. It did better than expected.

I purchased this bag along time ago but did not have a need to use it until about 8 months ago. I started using the bag 8 months ago and already knew it would hold a lot. I have filled the bag to the max with 10 1/2 trays and it worked perfectly. The most that has happened to the bag is the interior seem split but was still doing a great jib. Then the test of all test came. I had to cater a event 7 hours away. I was so worried that the food would spoil on the trip and did I mention it was 90+ degrees outside. I took my prepared food out of the fridge and placed all 10 1/2 trays into the bag, placed some towels on top hoping it will insulate it and got on the road. 7 hours and 10 minutes later I

arrived at my destination, unloaded the car and prepared myself for the worst. Can I tell you, I took all the trays out of the bag and each pan was just as cold as it was when I took them out of the fridge 7 hours and 10 minutes later. Matter of fact the food was still cold where it took my sternos almost a full 2 hour burn to make the food hot enough to eat. I highly recommend this bag to anyone. Ofcourse every experience is different, but my experience has been top notch. Read Less Read More

We have stacked a lot of half trays in this bag! It is durable and sturdy. We also use this bag to store baked potatoes until time to serve! Keeps everything hot or cold! Nice product and great quality!

Great product! These bags are durable and easy for all of our delivery drivers to use. We're almost always able to fit all of their deliveries into one bag, but when we can't, the carrying handles make it easy for them to take two bags at once. They're also easy to clean, which is a big plus.

I used this to transport baked chicken to my nephew wedding which was 1.5 hour away. I arrived at the venue with the chicken still hot. the bag held 4 aluminum trays which I separated with pcv strips to give strength to the pans. Worked perfectly highly recommend this product.

Keeps food hot for several hours. The max amount of time i attempted was 6 hours and I believe it could have kept going. I purchased 2 heating pads and the bag sealed kept it hot inside and I was opening and closing the bag during sales. Great deal!

i cannot say enough about these bags! Love them-highly recommend- the fact that they are velcro is great too because the zippers do break on the other food bags

We have grown catering delivery to the point where we needed these to accompany the large hard plastic ones we already had. These work great to keep food warm and for someone to carry a large order with one hand.

I ordered a few food delivery bags and in my opinion, the Choice bags seemed sturdier and didn't collapse like this one does. On the plus side, the material seems thicker. Would have liked zippers instead of the Velcro fasteners..

For the price, these are great: they insulate well and they're highly functional. They are quite snug around full size food pans, so snug that there's some wear and tear where the pan corners digs into the padding. Other bags I've seen have just a bit more breathing room.

Very nice bag. Great for delivering or carrying things. Kept food warm for hours. Holds 6 half trays snug. Room for plates and cutlery in side pockets when bag is full. Would recommend this purchase

These bags are awesome. After having several bags fail of a different brand I bought the Servit bags and an very happy. As a high volume caterer quality matters and these bags hold up!!!

This is my 4th purchase of food carrier bags from WebstaurantStore... I've purchased Choice pizza bags and food (pan) bags, all insulated. The first 3 purchases were for Choice bags with ~ 1/2 inch insulation and zipper closures. Only problem was that some of the pizza bags had faulty stitching; Webstaurant replaced the defective bags with no further defects found. SO I bought more later. This purchase of the Servit product was based on my good experiences in prior years. I noticed the "soft-sided" bags and thought they might prove easier to store when not in use. For the Servit 22" x 13" x 16" Soft-Sided Heavy-Duty Nylon Insulated Food Delivery Bag/Pan Carrier, I didn't realize that the "soft-sided" meant that the insulation had been changed to "a puffy fiber-fill construction" as used in sleeping bags and that the closure was not a zipper but rather "velcro" and prone to pop open under handling stresses. (embarrassing when putting the

loaded bag down and the top pops open.) The puffy nature of these newer design bags also means that when being filled, they do not "stand up straight" for easy filling as do the units with firmer insulation/construction. Like fiber-filled sleeping bags, these newer bags are not compact for storage but require binding/restraint with straps or insertion into a utility/stuff bag for compression. I wish I could trade these 3 Servit black bags for the slightly smaller insulated/zippered bags as the Choice 23" x 13" x 15" Insulated Nylon Food Delivery Bag/Pan Carrier. BLUE 124FCARRBL Read Less Read More

We are sorry this product did not meet your expectations, we have applied a credit to your account!

What an awesome soft side heavy duty nylon insulated food delivery bag I am so impressed with the quality of this great big size very fluffy lots of insulation in it it is definitely worth the price
Leave a review of this product!
If you've used this product, log in and leave a review to tell us and other customers what you thought about it.
Login or Register