From $46.83/Case
| Reg. | 3 - 9 | 10 - 41 | Lots of 42 |
| --- | --- | --- | --- |
| $52.99 | $50.90 | $48.86 | $46.83 |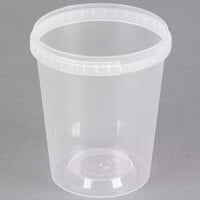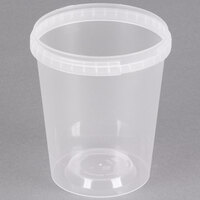 From $8.13/Each
| Reg. | Lots of 6 |
| --- | --- |
| $8.79 | $8.13 |
From $9.60/Each
| Reg. | Lots of 6 |
| --- | --- |
| $10.49 | $9.60 |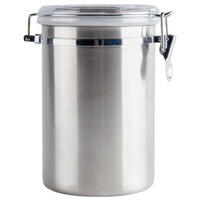 Notify me when this
product is back in stock:
From $8.58/Each
| Reg. | Lots of 6 |
| --- | --- |
| $9.19 | $8.58 |
Package soups, deli salads, leftovers, and other premade meals in these quart plastic containers with lids. Hold up to 32 ounces of solid or liquid product in a safe and reliable way. Complete with compatible lids, you can rest assured knowing food will make it home without accidental spills.
Available in a variety of shapes and styles, we have the perfect quart plastic container with lid for you. Choose from containers that are microwavable and styles that are tamper-evident. We even have options with high dome lids to make it easier to package cakes and other desserts with frosting or other toppings. Due to the plastic construction of these containers, they can be easily thrown away, or reused if you wish!