From $37.84/Each
| Reg. | Lots of 2 |
| --- | --- |
| $39.99 | $37.84 |
From $41.53/Case
| Reg. | 3 - 7 | Lots of 8 |
| --- | --- | --- |
| $42.99 | $42.28 | $41.53 |
From $41.25/Case
| Reg. | 3 - 7 | Lots of 8 |
| --- | --- | --- |
| $42.99 | $42.00 | $41.25 |
From $5.64/Each
| Reg. | Lots of 12 |
| --- | --- |
| $5.89 | $5.64 |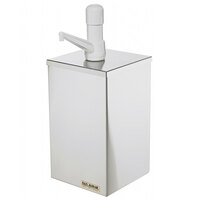 Notify me when this
product is back in stock:
Plastic gallon jugs can be used in food service or janitorial services for holding large amounts of food or cleaning solution. Place a gallon jug of hand soap in a wall-mounted dispenser for customers to use in bathrooms. Thanks to its large size, you won't need to replace it as often, allowing you more time for other tasks.
In the kitchen, plastic gallon jugs can hold salsas, dressings, or other condiments for ease of service during busy hours. Instead of taking time to find and open small bottles of condiments, your staff can spend more time plating food because the condiments they need are available in large quantities.