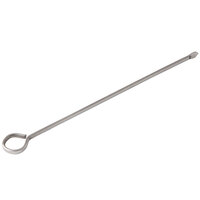 From $2.65/Pack
| Reg. | Lots of 4 |
| --- | --- |
| $2.89 | $2.65 |
Notify me when this
product is back in stock:
These 8 inch metal skewers make it easier to cook meats and vegetables on your gas or charcoal grill. Each skewer features an 8 inch long blade that is ideal for making kabobs! The sharp pointed ends also allow cooks to effortlessly spear tougher meats like steak.
Since these 8 inch metal skewers are made from durable materials like stainless steel, you can load them up with hearty portions of chicken, steak, pork, shrimp, peppers, and potatoes. You can also place these skewers on dinner plates to serve customers their freshly grilled appetizers. Best of all, they're dishwasher safe for easy cleanup and reliable sanitation.