Noble Chemical CitraKleen 1 Qt. (32 oz.) All Purpose Citrus Cleaner & Degreaser - 12/Case
Great for cleaning and removing grease from multiple surfaces
Safe for use on tile, porcelain, stainless steel, and other hard surfaces
Natural citrus solvent for extra strength cleaning power
Environmentally friendly and biodegradable formula
Leaves surfaces with a pleasant, orange scent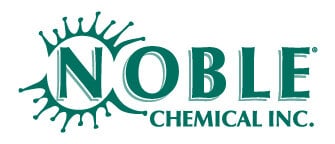 View all Noble Chemical All Purpose Cleaners
Noble Chemical
Keep your commercial kitchen or bathroom clean with Noble Chemical's CitraKleen all-purpose citrus cleaner and degreaser.
Noble Chemical's CitraKleen all-purpose citrus cleaner and degreaser is perfect for cleaning all of the hard surfaces in your business's kitchen and restrooms. This heavy-duty solution can remove even the toughest grease, dirt, and mineral buildups and leaves behind a pleasant orange scent. You can use CitraKleen on tile, porcelain, stainless steel, chrome, and a variety of other hard surfaces, making it a perfect choice for any facility.
Made in America

This item was made in the United States of America.

Biodegradable

Upon disposal, biodegradable products are capable of being broken down by biological microorganisms, without harming the environment.

Orthodox Union Kosher

This item is certified Kosher by the Orthodox Union.
"Awesome product! We use this to clean out 3 basin sinks- you'd be surprised how gross they get with grease buildup. A squirt and some elbow grease cleans it up!"
Read More Reviews
Easy-to-Follow Instructions
To use CitraKleen, spray or mop the solution on the surface you want to clean. Allow concentrate to remain on the affected surface for several seconds, then wipe off with a damp cloth. This bottle also includes clear step-by-step instructions printed on the label.
Convenient Design
This bottle's easy-to-grip neck fits perfectly in your hand, and the small mouth allows you to dispense the exact amount of cleaner you need.
Eco-Friendly Product
CitraKleen all-purpose cleaner is made of natural citrus ingredients, making it an environmentally-friendly choice for any business.
Power of Citrus
With a refreshing orange scent, this formula is a natural citrus solvent that is perfect for cleaning and removing grease from multiple surfaces.
Noble Chemical Brand
Noble Chemical brand supplies are a smart addition to any restaurant, hotel, or healthcare facility, and this handy cleaner will keep all of your hard surfaces clean. Be sure to check out our quantity discounts for even better wholesale savings!
Noble CitraKleen
Noble Chemical's CitraKleen is the perfect way to clean up soil, dirt, or grease stains on any non-porous surface in your establishment! This strong cleaner features a fresh scent, and is perfect for kitchens, floors, and bathrooms. Watch this video to learn more!
Noble Chemical Citra Kleen
Looking for a biodegradable solvent with a pleasant scent? Check out Noble Chemical's Kleen, a natural and eco-friendly solvent that is perfect for cleaning tile, porcelain, and other hard surfaces.
Clean up soil, dirt, or grease stains with Noble Chemical's CitraKleen all-purpose citrus cleaner and degreaser! CitraKleen will quickly and easily clean any non-porous surface such as tile, porcelain, concrete, stainless steel, and chrome. With this kind of versatility, you can use this cleaner to get rid of grease build up around cooking areas, scrub away tough dirt from your tile floors, or wash away mineral build up in your bathrooms. For heavy duty degreasing, simply spread the cleaner over a surface and allow it to set for about 4 minutes. Then, just wash the cleaner away with a hose or damp cloth and watch the grease disappear! In cases of heavy grease build up, scrubbing may also be required. For lighter duty tasks it is recommended to dilute the cleaner with water before use. Since CitraKleen can remove everyday grime, soap scum, lipstick stains, wax, and even food stains, it is truly an all-purpose cleaner for every part of your business. After cleaning, the orange scent is both refreshing and pleasant, so your kitchen will not only look clean, it will also smell great! This scent comes from the natural citrus solvent used in this cleaner's formula, which gives this cleaner its added strength. Its even eco-friendly and made with natural citrus ingredients! CitraKleen is also biodegradable and Kosher certified. Get rid of tough grease and dirt build up without the use of harsh, caustic chemicals with the help of Noble Chemical's CitraKleen all-purpose cleaner and degreaser.
Made to penetrate to grease, dirt, and mineral buildup, Noble Chemical's all-purpose citrus cleaner and degreaser is the simple and convenient way to clean your kitchen's and restrooms. This heavy duty cleaner utilizes a natural and eco-friendly solvent that makes it perfect for tile, porcelain, and other hard surfaces while deodorizing with a pleasant orange scent. Upon disposal this product is biodegradable and returns to the compounds found in nature. Best of all, its special formula won't harm your walls or floors helping your business maintain a professional and spotless appearance. Thanks for watching and it you have any questions, please click on our live chat button.
Resources and Downloads
Specsheet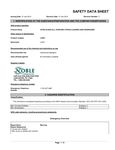 SDS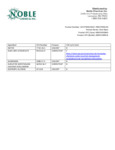 Ingredients
Product Label
A PDF viewer is required to view this product's information. Download Adobe Acrobat software
Customer Reviews
People Talk About:

great

cleaner

smells

cleaning

cleans

floors

walls

dilute

counters

containers

Love, Love, Love, this all purpose cleaner. Not only does it clean multiple surfaces but it also smells great while you are cleaning. Highly recommend.

Buy this. There have been lots of reviews from people in commercial settings; I'm here to tell you this is also perfect for home use. I purchased Citra Kleen because I'd used similar Noble Chemical cleaners at my business, but needed something for home to cut through 10 years' worth of spatter & smoke from a stovetop that was wedged between a wall & the refrigerator. NYC apartments, am I right? There was a section of both vertical surfaces that couldn't be reached to clean because there wasn't enough lead to pull the stove out — until recently. It was gross. I popped an extra spray trigger directly onto the bottle, and this cleaned the stuff like it was no big deal. Seriously, I was shocked. I had to use a scrub pad in spots (which took some paint off the plaster walls that hadn't been painted since 2006) but all in all,

it truly was impressive. It took a minimum of elbow grease, too. My wife and I sat there afterward and were basically like, "what the heck have we been doing with cleaning being so hard before this?" I mean, I'm here writing a review of a cleaning product, on a Saturday, for God's sake. Yet another socially-distant Saturday, but a Saturday nonetheless. It was transformative. I'd like to shake the chemengs' hands that put together this formulation. If you're like me, and you're a home user, don't waste your money on anything at retail. Buy this. Buy a case, clean everything, go wild. (Wear gloves.) I might just be going stir-crazy from being indoors, but I'm about to go see what else this thing can clean. Read Less Read More

Sometimes we assume that all cleaners are created equal, but not this cleaner. It's packed with cleaning power and does the job as promised. Only a little is needed and will go a long way!

This all-purpose cleaner definitely does the job. It is not necessarily superior to another all-purpose cleaner, but the citrus scent makes it a little more bearable. It does do a good job on tough stains and spills.

We really like this product. Its about half the price of the cleaner we had before. The smell is not toxic like our last product (from a different vendor). For tough areas of grease and grime we spray right on and with very light pressure the grease comes right off. Then we have a separate bottle that we use and dilute this product and we use for our tables.

When I rented out an old building that had been a burger joint in the past I tried everything to remove the greasy buildup and old adhesive from the old kitchen tiles but this stuff turned it into jelly within a few minutes and it scraped off with almost no effort! Lifetime customer

We use Noble Citra Kleen to clean our restrooms and clean up our kitchen stove tops. This cleaner cuts grease and grime in our kitchen and cuts soaps scum in our restroom. The Citrus smell leaves everything smelling fresh and clean.

This cleaner is very powerful with a nice scent! I will definitely be sure to keep this in stock, therefore I will be ordering more soon!

This cleaner works really well for all of our surfaces, cleans our sinks well, and smells great. I'm not sure if a spray trigger was a suggested item, but if not, that would be easier to order together next time.

I can't tell you how impressed I am with this all purpose cleaner and degreaser! It is not only amazingly effective but leaves a nice, light smell behind. Some cleaners can be too heavy, but with this one, a little surely goes a long way! I am definitely buying more of this!

Really glad I found this! I hardly ever need to use degreaser, but when I do its really nice to have on hand. So I didn't want to have to buy a whole gallon that I'll never use, and This is a perfect size bottle for people that want to have degreaser on hand just in case, but dont need it on a daily basis. Works very well too, and leaves a very pleasant orange scent.

This is one powerful cleaner! It works great for cleaning up heavy grease spills and it smells great. It can be used for cleaning counters and floors. A little bit goes a long way.

This is a really good cleaner. The only issue that we have had with the product is that almost always have to dilute it. If you do not it tends to be too strong for normal applications. I guess that it probably a good thing though.

We used to use the name brand yellow cleaner in gallon containers but I totally prefer this now. it smells wonderful and cleans great. I would even use this in my house.

I purchased Noble All Purpose Citrus Cleaner and Degreaser for personal use. I absolutely love this product! I used it to clean my kitchen and it left a wonderful clean scent. I would definitely purchase again!

Great product, we use it for our heavy duty chicken ovens where grease really gets sticky. We wanted a safer solution to clean our ovens, we found it with this, we have ordered it many times and every time it leaves them looking amazing.

This citrus (orange) cleaner works great as an all purpose cleaner. I use it all over the kitchen, and it does a great job at almost any cleaning task. For general cleanup I just spray and wipe, for heavier duty jobs let the cleaner sit for 30 seconds or so to penetrate. I also love the orange scent that it leaves, it is a great "clean" smell.

This cleaner smells really good, a clean orange citrus scent. It works okay, I don't know if it would really power through lots of tough grease though. Dish soap would probably be better for that. I thought it would be like a knock off of goo gone, but it's a completely different type of product, doesn't do much for dissolving sticky labels.

This degreaser works really good posit awesome citrus smell to it I like how it's ready to go in this 32 ounce bottle it's very fast acting when you sprayed on the grease

This cleaner is amazing. Non toxic, smells awesome and cleans the toughest dirt without the hard scrubbing. We use it on floors, walls, tabletop, chair legs... You can download a packet that suggests dilution based on what you are cleaning. Great product. However, does not include the spray nozzles. So be sure to order some of them.

Perfect cleaner for perfect price! You will absolutely love this one! It is really strong and it has such a nice nice smell! Great for any household or professional use!

1 quart 32 ounce noble chemical Citra all purpose citrus cleaner and degreaser is perfect for cleaning heavy residues from pots and pans leaving them looking brand new

Good all purpose, eco friendly degreaser. Normally this stuff is really gnarly, but this cleaner is nice smelling and effective at most jobs we need.

This cleaner and degreaser is really a great product. Any time I have a difficult stain on a pot I pour some of this with hot water and let sit for an hour. Pot looks as good as new after!

A nice degreaser, It worked well on all our fry equipment and stove. It cleans up quick and has a nice citrus smell. Good value and we would repurchase this

Works great. Can be diluted but at full strength this will clean anything. We used it to clean and old greasy vent hood with no problems. Smells awesome. Wife wants some for our house.

great product work really well on tough greasy area in the kitchen. We use it on almost everywhere now, also great on stainless steel tops

Love the citrus smell of this cleaner. Not only does it do a decent job at cleaning, it refreshes the air at the same time with a wonderful sent

Gdreat Noble Citra Kleen cleaner. has a nice Citrus small and does a great job cleaning our dishes. The 1 qt bottle was offered at a nice price.

1 Qt. (32 oz.) Noble Chemical Citra Kleen All Purpose Citrus Cleaner & Degreaserpersonally I do not see the usefulness of this cleaner it smells nice but I could not find a good use for it

You can't beat the smell of this product, it is by far my favorite. Normally degreaser don't have the most pleasant smell, this is such a refreshing scent.

great for all cleaning this 1 Qt. (32 oz.) Noble Chemical Citra Kleen All Purpose Citrus Cleaner & Degreaser worth for the price awesome

this product smells as good as it works! my employees like that it does not smell like a harsh cleaning agent ( it smells like oranges) , and it cleans better than most of the cleaners we were purchasing from elsewhere.

Awesome product! We use this to clean out 3 basin sinks- you'd be surprised how gross they get with grease buildup. A squirt and some elbow grease cleans it up!

I go through alot of this. It is great for cleaning walls. Takes off any greasy film and makes everything smell so clean and fresh.
Leave a review of this product!
If you've used this product, log in and leave a review to tell us and other customers what you thought about it.
Login or Register