Hand Saver Pallet Wrap / Stretch Film Dispenser Set - 2/Pack
Customers Also Viewed

Fits any 3" diameter core
Lightweight, ergonomic design
Provides superior tension control
Results in yield savings
Perfect for warehouses, receiving areas, and other storage facilities
Fits onto either end of stretch film roll
Designed to reduce friction
Allows you to easily prepare pallets for safe, secure shipping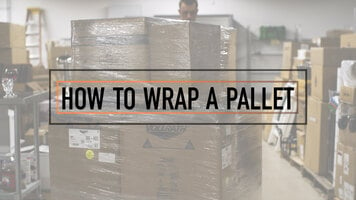 Get the products in your warehouse ready for safe transportation by properly film wrapping your pallets. For your convenience, you can use the film dispenser to effortlessly hold and dispense the film while you walk around the pallet. But you can also wrap pallets with the just the film roll! First, secure your film by either tying it to the wooden base, or by wedging the end between two boxes on the pallet. You will want to start wrapping at the very bottom, being sure to cover at least 1" of the wooden pallet, if not more. This secures the product to the base so it doesn't slide or tip off. This is the most important part of wrapping your pallet. Then, wrap around the base completely at least twice, and for heavier loads you can go around 4 or 5 times for even more stability. While wrapping, hold the film about 10" from your pallet and walk forward. For stretch or pallet film, stretch the film about 30%-50% around the corners, being sure to hold tension in the film to give a tight, secure wrap. Moving up, you will want to have at least 50% overlap from one layer to the next for added strength. Once you reach the top, stretch the film around the top corners and pull slightly downwards, so you secure about an inch of film over the top of your pallet corners. Now that your pallet is securely wrapped, you can count on the safe transportation of your products!
Increase product safety and stability on pallets in your warehouse by learning the proper way to wrap a pallet! These tips will help you correctly secure boxes so they don't fall off the pallet and get damaged during transport.
Specs
Material
Plastic
Type
Dispensers
Usage
Hand Wrapping
Details
Save time and effort by using this hand ring pallet wrap holder set! The two piece set attaches to either end of your pallet wrap roll, giving you greater control over the tension of your pallet wrap. This increased control allows you to use the precise amount of film that you need to make your pallets safe and secure for shipping. Additionally, using this stretch film dispenser set results in yield savings and superior load holding. Its lightweight, ergonomic design reduces friction, and it's designed to fit any 3" diameter stretch film / pallet wrap core. This dispenser is perfect for high volume packaging facilities such as warehouses, receiving rooms, and docking sites.
Customer Reviews
People Talk About:

wrap

hands

Hand

much

savers

pallets

easy

great

shrink

saver

1

out

of 1 found this

review

helpful

I was kind of skeptical of these when I first saw them but figured I would give them a go. We wrap alot of skids to go into high warehouse racks and have used the tubes of shrink wrap without any holder, which usually burns your hand or ruins your gloves. We have had expensive metal holders in the past which usually get broken or the parts are lost. These gems are definitely worth the money, they may look like flimsy plastic but are more than capable of getting the job done without burning your hands up. The tension of the plastic wrap is easily controllable by pressure applied to the spinning roll. I have a couple of pairs of them and are definitely going to reorder some more. Thanks for stocking this item at a great price. :)

1

out

of 1 found this

review

helpful

Bought a dozen of these for me and my coworkers, which have to wrap dozens of pallets each day, and wow what a huge difference these make compared to struggling with just a roll of plastic wrap. So simple yet so fast and effective, no burnt or cut up hands anymore, and so much faster too. We have a few of those fancy dispensers(100$)+ each, and me and my coworkers all agree this is a much better solution to wrapping pallets. At 5 bucks or so a pair, this is a must buy for anyone who has to wrap pallets on a daily basis. Will reorder more when when neccesary.

Great for wrapping things with plastic by hand. You have to keep an eye on them because sometimes they start coming out of the cardboard tube of the plastic wrap but it's easy to tap/push them back in. Helps keep your hands from getting abrasions if you have lots of wrapping to do.

what i like about this hand saver it is really easy to handle it helps you to dispense the stretch film easy and to reduce waste !!

I wasn't sure if this set would work good or not. I have multiple crews using these tools. 2 years later, the hand savers are still working. very durable and definitely keeps the "friction burn" off our hands. Highly recommended!

These hands saver pallet wrap handles are fantastic much better than the cheesy one please go in both sides and it spins so for easy application of your pallet wrap

These are really awesome they work great I like the fact that you can have one person hope the wrap while someone else pulled it very easy to use great product

Better than average build quality and gets the job done for far less money than alternatives. Stretch wrap roll rotates smoothly. Should last a long time. I've dropped these a few times and they still have not broken. A solid 4 star product

These are great little hand savers. The pop in to the wrap tube easy and only come out when you want them to. This has really saved my hands getting cut up when wrapping pallets. Now if they could only come up with something that would stop me from getting dizzy while wrapping.

We are at times having to wrap things by hand. These work very well and is much better than having raw hands. They move freely while in use. The only thing I would like would be if they were made out if maybe metal because our employees tend to drop then a lot which causes then to crack and break.

We shrink wrap a lot of heavy wooden items to be shipped & these Hand Saver Dispenser set has really made a difference in the time it takes us to wrap & so much easier to hold & unroll the shrink wrap. They fit any size rolls. Great buy if you wrap a lot.

I love using these hand savers they save my hands from getting burnt up from the shrink wrap edges I'm going to order more for my coworkers

We ordered two of these for our warehouse and have had nothing but good experiences. I really wish we had these at the dock I worked at when I was 18, they really save your hands and back!

Though this may seem like a waste of a couple dollars, I can assure you it is not. Until you have used one of the these things for yourself, one does no know the immense value it adds to a dock. Shrink wrapping goes by MUCH quicker and with greater efficiency. With the value it adds to a dock, this price is a hell of a steal!!
Leave a review of this product!
If you've used this product, log in and leave a review to tell us and other customers what you thought about it.
Login or Register