Choice Insulated Food Delivery Bag / Pan Carrier, Brown Nylon, 23" x 13" x 15"
1/2" layer of insulation for excellent heat or cold retention
Top load design for fast packing and unloading
Water-repellent nylon material with durable carrying handles
Holds up to 5 full-size 2 1/2" deep food pans
Clear label to identify carrier contents
Control food temperature during your restaurant's delivery service with this Choice brown insulated nylon pan carrier!
This carrier is perfect for delivery, outdoor gatherings, or transportation to catered events. The top load design creates a broad area for quick loading and unloading of containers. Each carrier can hold up to five full-sized 2 1/2" deep food pans, as well as a combination of different fractional-sized take out containers.
"We really love these bags. They do a great job at keeping food hot and carrying them is a breeze. We use them for mainly hot food but we have also used them for cold products and have had great results."
Read More Reviews
Easy to Carry
Featuring durable nylon carrying straps, this container can handle your heaviest load of deliveries while still being comfortable to hold.
Collapsible Design
When not in use, the bag collapses into a smaller size to make it easier to carry and save valuable storage space.
Label Contents
A clear label is available on top the lid to quickly identify carrier contents. It's also a great location for menu cards.
Nylon Exterior
Its durable and water-repellent nylon exterior will remain immaculate despite rainy and snowy weather. Water or messes wipe right off the surface for easy cleanup.
Secure Zipper
A zipper runs along the top of the bag to ensure that food items remain securely packed inside and to enable easy opening and closing.
Maintains Food Temperature
This carrier's 1/2" thick layer of insulation keeps warmed foods hot and cold foods chilled as you travel to or from the venue. Plus, the interior is roomy enough to hold hot or cold packs, too!
Color Coordination
Choice insulated food delivery bags / pan carriers are available in an assortment of colors. Use this brown color to help color-coordinate your food and drinks for increased organization and decreased chances of cross-contamination.
Customer Q&A Ask a Question
How long does this carrier keep the food warm? Is it comparable to the heavy plastic carriers that keep food warm for up to 4 hours?
This carrier is more suitable for delivery, rather than long-term holding. The amount of time that the food stays warm really depends on the heat of the air and the heat of the food going into the carrier.
The item that I received has different dimensions than the ones that are listed. Why?
Due to the universal nature of this product, some of the dimensions may vary slightly.
What types of items will fit in this insulated food delivery bag?
Here are some examples of what you could fit into this insulated food delivery bag:
- (2) 18" deli trays with high dome lid
- (3) 16" deli trays with high dome lid
- (6) 12" deli trays with high dome lid
- (2) full size 6" deep steam table pans
- (3) full size 4" deep steam table pans
- (5) full size 3" deep steam table pans
- (6) full size 2 1/2" deep steam table pans
- (2) 8-18 qt. square containers
- (4) 6 qt. square containers
- (6) 4 qt. square containers
- (3) 9" 2-3 layer cake containers
- (2) 1/4 size 2-3 layer sheet cakes
- (16) 32 oz. deli containers
- (6) 9" x 9" x 3" foam takeout containers
- (24) 6" x 6" x 3" foam takeout containers
- (12) 10" x 5 1/2" x 3" foam hoagie takeout containers
- (2) 160 oz. coffee to go boxes
- (2) 12-18 qt. round containers
- (6) 4-8 qt. round containers
- (18) 2 qt. round containers
Choice Insulated Food Pan Carriers
Transport and deliver food with ease using these Choice insulated food pan carriers! They hold up to five full-size, 2" deep food pans and can be loaded with hot packs to keep your items warm until served.
Offering great temperature retention and safe transport for your food, our Choice insulated food pan carriers are the perfect addition to your catering business or delivery service. With durable nylon construction, reinforced carrying straps, and heavy-duty zippers, these food pan carriers are built to last. Thanks to the 1/2" thick insulation, these delivery bags keep your entrees, hors d'oeuvres, and sides piping hot until they reach their destination. If it's cold food you need to transport, check out our Choice carrier kits. They come with a delivery bag and two foam freezer packs that you can re-freeze time and time again to keep your cold foods chilled and fresh. Intelligently designed, these insulated pan carriers come in a variety of colors, so you can designate different foods with different colors. In addition to our nylon bags, we offer economical vinyl options that are easy to wipe down and keep clean. All of our Choice food delivery bags are collapsible for easy storage and feature water-repellant interiors. The easily visible, clear pocket on top is great for labels, receipts, and more, so no matter what you're transporting and delivering, you'll always be organized and prepared with fresh product.
Bag Overall Dimensions:
Length:

23 Inches

Width:

13 Inches

Height:

15 Inches
Bag Interior Dimensions:
Length:

21 Inches

Width:

12 Inches

Height:

14 Inches
Resources and Downloads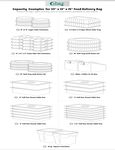 Capacity Examples
A PDF viewer is required to view this product's information. Download Adobe Acrobat software
Customer Reviews
People Talk About:

food

bag

bags

Great

pans

catering

warm

delivery

hold

hot

1

out

of 1 found this

review

helpful

This is an excellent delivery bag. It's amazing how warm foods stay inside and when items are paired with the frozen packs, the goodies stay cold for hours.

1

out

of 1 found this

review

helpful

This bag is very nice for the money. The hot food stays well insulated and it collapses easily so it can be stored in small spaces.

1

out

of 1 found this

review

helpful

I wish it would be more stable. The bag is insulated but it does not have appropriate support. However, I made it work by laying a full size shallow plastic hotel pan on the bottom to help with support. Its been working great!

1

out

of 1 found this

review

helpful

Brown Bag - Make sure to line the bag. Held heat for a very long time in Virginia sitting traffic for over 3 hours of travel time.

This insulated food delivery bag works well for our larger deliveries and is a lot more lightweight than using a full size other brand. The seams have held up on ours despite what the other reviews have said. We do sometimes support it by putting a box inside.

I bough this for my wife to haul groceries (we live 30 miles from town). She keeps it under her back seat, and uses it every week. Keeps milk cold and ice cream solid.

The bag itself is pretty durable and keeps food pretty warm consider it is just an insulated canvas bag. The zippers do seem to break pretty easily, but these are some of the cheaper bags available. They hold about 10 9x9 sandwich boxes which works well for us.

we use these bags in our everyday operation. they are sturdy and hold the weight great. we will be adding more to our needed supplies for the bbusiness

These are a must have for anyone offering delivery, whether it's catering to corporate events or residential delivery. I also use them for my grocery excursions, which is likely the culprit for why the stitches on the handles ripped out so don't overload them! They perfectly hold both aluminium disposable pans and stainless pans, and I've even used them for individual Styrofoam containers. You can fit 4-5 rows of either half-size pans, with two set side-by-side, or full-size pans. I've delivered across town during subzero temperatures and the food stays nice and warm. It's just a fantastic product for the money!

I use this food delivery bag for many different reasons. I can say that I love using these for my cupcakes because they keep them cool, these are a great buy !!

I love these carrying bags. They make delivery extremely helpful, all while keeping your food nice and hot. They ate easy to fold down and wipe out in case of spills.

Not great quality. No structure on bottom, really need a 3/4 sheet pan to make it work right. handles fall apart in a short period of time. zippers stick, and stitching comes out.

Thank you for your feedback! We are sorry your Choice Insulated Food Delivery Bag / Pan Carrier, Brown Nylon, 23 inch x 13 inch x 15 inch was defective. Corrective action has been taken and a Customer Solutions Representative will remain in contact with you about this.

You get what you pay for. A reasonably priced bag, but after putting full sized aluminum pans in multiple times the lining began to tear, and then it started to smell because the insulation is foam, and if something spilled it soaked right in. We never reordered, and decided to put the money into better quality bags. It was worth the added expense.

Thank you for your feedback! We're sorry you did not prefer this product. For recommendations, please contact our Customer Solutions team.

This insulated bag is a big plus for catering companies. I place a towel in the bag before putting my pans and it kept the food warm for 4-5 hours, if you put the food in there hot.

The perfect color for our business. Great product, arrived on time and works great in the catering company. We will be ordering more as our business expands.

Honestly, the dimensions of this bag needs to actually be 25 x 15 x 15 because whenever we pack full size foil pans in the bag with the foil lids on they get caught on the fabric on the sides of the bag making it very difficult to lay the pans in the bags for travel. The extra two inches would be perfect allowing us to put the large full size foil pans with lids into the bags with no problem.

Thank you for your feedback! We're sorry you did not prefer this product. For recommendations, please contact our Customer Solutions team.

These are quite functional and can carry a big load of food. I am not sure how long the stitching will last under working stresses, but so far they are doing well. One quibble is that I wish that the insulation near the seams was a little better. The seams are not insulated

We are amazed by how well these bags work. We bake cinnamon rolls every Saturday, and they typically cool within the hour and have to be warmed up for someone to enjoy...not anymore! These bags keep the rolls warm until we close! Excellent value, great product.

Same as with the blue one, zippers are quite flimsy. In this case, we spent money at a local outfit to get new zippers put in. Bag holds well though. Does the job. You have to fix the zipper issue.

"We appreciate your feedback! We're sorry this is defective. A Customer Solutions Representative will be contacting you directly."

The Choice Insulated Nylon Food Delivery Bag is great for us, it is sturdy hold up well in outdoor conditions. We are happy with it.

This product will actually hold a lot more than you would think. I would not be surprised if this could hold 8 or more large pizzas with room to spare for wings and things. It carries well, it insulates very well.

These are so affordable that I shared them with my friends to carry foods to and from church events. Keeps the food warm. Closes. Handles for convenience of carry. Wonderful!

This food bag is large and is able to carry ALOT of our supplies. It keeps our foods cold, maintaining under 40 degree for hours. THe only reason I give a 4 instead of 5 is that I have found I prefer the plastic and easy to clean bags, which is just a personal preference.

I cook food for neighborhood parties quite frequently. This food delivery bag is so incredibly convenient for transporting large trays of hot food made in disposable aluminum pans! It's light so it doesn't add weight, and the shape really maximizes what you can fit in there. I don't know how long it will keep food piping hot, but it's worked for my purposes (an hour or so).

Can hold 6-8 half foil pans, and many plastic containers. Good for delivering product. Used in conjunction with ice packs holds temperature well. Recommend putting something sturdy on bottom as entire is nylon, so when carrying heavy items will shift especially on the bottom.

These bags are extremely useful for us for catering but the seams tend to rip after a couple of uses and the zippers almost always fall off pretty fast. They do insulate very well though and Webstaurant has given us credit for those that malfunction right away, so we'll keep buying them!

This is a well-made product. I use it for my catering event and it keeps my waffles warm for much longer than usual! Very easy to carry and I use the window insert on top for my catering order form.

We purchased three of them. They are the perfect size and pretty sturdy. They look very professional. We used them today, June 12th for the first time at a farmers market. Unfortunately, while two of them had perfect zippers, one of them didn't work. It was very tricky for us to keep that container cold.

these bags started out great. but then each one either broke at the zipper OR tore open from the seams. Going to have to buy all new ones. I dont want to buy the sames ones again, but I dont know any alternative. very poorly made bags

Thank you for your review! We are sorry these delivery bags caused issues for you. A Customer Solutions Representative will contact you shortly to credit you for the faulty batch.

This Bag is everything you need for your next Catering event. This is my 4th purchase of this product for my third Business location and it never fails me.

0

out

of 1 found this

review

helpful

Great product the best thing I could have purchase. Very sturdy easy cleaning great size AWESOME product hold pans steady light weight, manageable also comes in great colors.

Geat product and great service use this on all my fresh rubs and bbq sauces..did not wait long to get..this is very good for catering

We use these to deliver food daily to a fraternity. We can stuff about 20 6x9 styrofoam filled containers of food in them. You can fit a hotel pan in them, but not sure I'd try and carry more then one in one of these.

I love these bags. They kept the food warm or cold and you don't have to worry about your food leaking from the pan into car. I cater and these bags make it so easy to transport. I recommend these to any cater.

We really love these bags. They do a great job at keeping food hot and carrying them is a breeze. We use them for mainly hot food but we have also used them for cold products and have had great results.

I love this bag, but hate that it is not washable! Food sometimes spills and the bag gets gross! I tried washing one and I can't use it anymore! I would definitely purchase again if they can correct this problem!

Thanks for your review! If you are looking for an insulated delivery bag that is easier to wipe down, the vinyl version of this bag is what you want. It is the Insulated Food Pan Carrier Vinyl, item 124FCARRVNL.

I received these bags just in time for a catering gig I had to do.....AWESOME investment. Food stayed hot enough after 3 hours to serve right out the bag. Just wished I would have ordered a few more. I stored 2 full size pans (4in deep) in each one.

I received a damage bag. I called customer service and they sent me a replacement via next day air.I love these bags. They keep food warm for up to four hours. I will be buying more.
Leave a review of this product!
If you've used this product, log in and leave a review to tell us and other customers what you thought about it.
Login or Register