WebstaurantStore / Food Service Resources / Blog
How to Name Your Restaurant
The name of your restaurant is probably the first impression new customers will have of your establishment and your brand. Customers may not judge you on the quality of your kitchen equipment, but they will judge your name. Because of this, it's important that you choose a memorable, catchy restaurant name. To help you make this difficult decision, we've compiled a list of six things to think about when coming up with a restaurant name.
1. Use Wordplay in Your Restaurant Name
Clever restaurant names give potential customers the impression of intelligence and humor. Who doesn't want to be thought of as smart and funny? Since this method encompasses different types of wordplay, some approaches work better for certain types of eateries. However, a clever name can set the mood and draw in guests off the sidewalk. Here are a few different ways to go about this:
Utilize Abnormal Grammar and Spelling in Your Restaurant Name
For modern, trendy bars, restaurants, and coffee shops, using abnormal grammar and spelling may be a way to set you apart from the competition. Restaurants like The Fifty/50 in Chicago and HipVegCity in Philadelphia have interesting, visual names that will intrigue potential customers and help with the branding of their establishments.
Incorporate Puns in Your Restaurant Name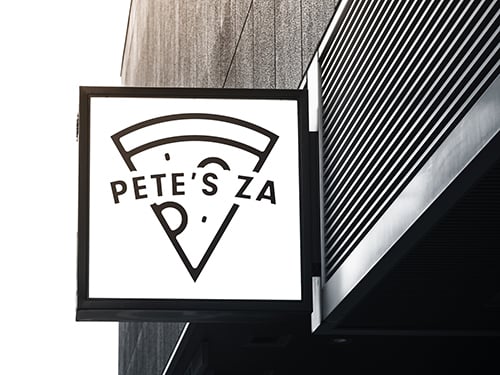 It's been said puns are the lowest form of humor. While this is up for debate, it's clear that punny restaurant names are quite popular. The fun names, like Thai Tanic and Mrs Sippy, will put a smile on your customers' faces and put them at ease, adding to the relaxed tone of your business.
Use Repetitive and Rhyming Sounds in Your Restaurant Name
Using repetitive sounds or rhymes is a great way to add a fun, lighthearted element to your business. For instance, Red Robin and Krispy Kreme Doughnuts are both national chains with repetitive sounds in the names. This makes the restaurant name catchier and more fun to say, encouraging people to talk about it.
2. Keep Your Restaurant Name Simple
While you may want a clever restaurant name, you don't want to overdo it. If you make your name too complicated and guests can't remember it, you may lose out on free word-of-mouth advertising. This is why many restaurants choose one-word names, like Nico, an Italian restaurant in Boston, and Bruxie, which is in southern California and Las Vegas.
3. Use Location-Based Restaurant Names
By basing your restaurant name on your address, you make it easy for your customers to remember where you are to return or tell their friends to visit. This can be just the street name, like South Congress Cafe, which is on South Congress Ave. in Austin, TX. You can even use your entire street address, like the Boston restaurant No. 9 Park did.
4. Make Your Name a Reference
By making your restaurant name a reference to something, you can start a conversation between you and your customers. A reference to a book, song, t.v. show, or movie, like Tequila Mockingbird and Alice's Tea Cup, can draw in people who are fans of the original source material as well as people who are curious due to the interesting name. You can also make a more personal reference by naming it after a friend or family member, like Nell's Restaurant in Seattle, which is named after the chef's wife.
Also in this category are restaurants that reference the type of cuisine they make or the cuisine's country of origin, like Greek Islands and La Pequena Colombia. This makes it easy for customers to know exactly what kind of food they'll be getting before entering. Another way to do this is by having your restaurant name in a language other than English. This can begin to create an atmosphere for your customers before they even walk through the door.
5. Ensure Your Restaurant Name is Marketable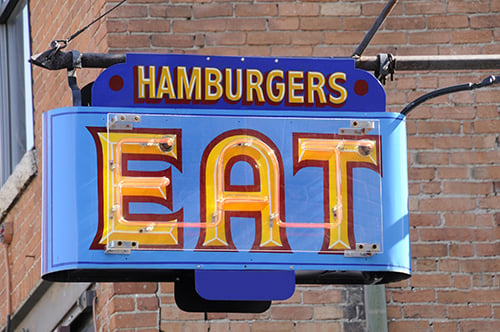 We've all seen businesses with terrible names. While they're often humorous, it can be hard to market a restaurant with a name like that, and those names may drive off potential customers who find them rude, rather than funny.
Something else to keep in mind is what your URL will be if you plan to have a website. Most restaurants use their name, but if your business has a very long name, it won't always translate well to cyberspace. While it's not the first thing people think about when starting a business, your marketing strategy should be kept in mind when picking your name.
6. Use an Original Restaurant Name
Make sure your restaurant name isn't trademarked or already in use before you start printing off menus and hanging signs. The Trademark Electronic Search System (TESS) is a great place to start checking if your restaurant's name, or a similar name, is federally trademarked. To register your business's name in your area, you'll need to contact the correct agency for your state, usually the Secretary of State, and fill out the necessary forms. You can also check with the Secretary of State's office to find out how to search for state trademarks and see if all or part of your restaurant's name is already registered.
Coming up with a catchy restaurant name for your new establishment can be a daunting task. Your name can draw in passersby or drive away potential customers. You want your restaurant name to reflect the tone of your restaurant as well as your own personal preferences. Of course, the final decision is up to you, and while customers might be initially intrigued by the name, they'll stay for your delicious food and great service. Once you've got your name, all you'll need are some booths and an open sign to get your restaurant up and running!
Posted in:
Management & Operation
| By Alyssa Burns